On a recent resort stay, after a long dinner full of local Pinot Noir and indulgent cuisine, I retreated to my room ready to relax. First, I wrapped myself in a fluffy robe and grabbed my book, then I sat outside and read until I could barely keep my eyes open. On the short walk to my bed I turned out the lights one by one: a floor lamp in the seating area, the desk light, the ceiling light in the corridor next to the bathroom.
I left just a single light on to guide the way back to my bed, sank onto the mattress and hit the switch.
And then the whole room lit up like a Christmas tree.
I sighed and hit the same light switch, throwing myself back into my previous state of dark plus a single spotlight, which shone down from a recessed fixture in the ceiling—perfect for a performance, less so for going to sleep, which was all I wanted to do. I sighed again, slid my feet back into my slippers and proceeded to hit every light switch in the room, feeling along the walls and along table edges for hidden toggles, pulling chains, growing more desperate with each second just to turn out the damn lights. Seconds before giving up and calling the front desk to send someone up, I spotted a camouflaged switch along the side of the headboard. I held by breath, hit the toggle and… blessed darkness.
When I reunited with my travel companions at breakfast the next morning, I discovered we'd all experienced some version of the same nighttime trauma, settling on varying coping methods. One of my colleagues pulled the comforter over her head, one dug out a sleep mask. Neither had managed the brain-defying feat of turning off the lights.
Shut 'er down
But while there's no shame in calling for help if the lights outsmart you, if you're finding it tricky to figure out the switch situation, you're likely not the only one—maybe there should be a little shame in getting the basics so wrong. "Complicated" should be reserved for Facebook relationship statuses, not light switches.
And yet it's amazing how many hotels make something that should be as simple as "on or off" just that. It's one of the greatest ironies of hotels: they're in the business of providing a good night's sleep (at the InterContinental Hotels Group, IHG, the parent company of hotel brands that include InterContinental, Kimpton and Crowne Plaza, hotels receive sleep scores, for which light is one of the factors along with criteria such as mattress comfort, noise and scent) and yet one of the seemingly simplest, scientifically-proven factors in sleep hygiene—eliminating exposure to light—is something they all too often get wrong.
Counterintuitive, non-user-friendly controls are just one of the crimes against lighting we at HotelAddict have observed in hotel rooms. Some others that, um, light our fuse:
Hard-to-find switches, especially in areas such as entryways and bathrooms, where guests might be fumbling in the dark
Overly dark vanity and work areas
Overhead and unnatural makeup lighting
Wonky automated sensors that turn on unexpectedly
Insufficient blinds or curtain coverage in rooms with bright exterior lighting (billboards, light installations, etc.)
Glow-in-the-dark appliances and appliance panels such as air conditioning controls, bar fridges and coffee makers
Bedside lighting that you can't reach from the bed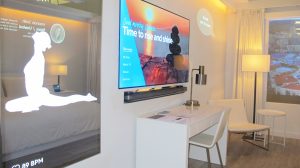 Switch your thinking
As hotels shift to personalized, high-tech rooms, solutions—to the complexity problem, at least—may be at hand. Both Hilton and Marriott are taking a page from the Smart Home concept and rolling out device-enabled rooms that not only seek to make light control more intuitive, but remember your preferences for future stays. Other hotels are just doing a better job labeling the light switches they already have: properties such as the Hôtel Plaza Athénée in Paris and Renaissance Downtown Hotel, Dubai have clearly-marked master switches within reach of bedsides, meaning guests are one button away from darkness.
Even more fun than that solution? A plush, golden cord dangles over the center of beds at the recently-opened Roomers Munich, a chic new boutique Autograph Collection property in the city's up-and-coming Westend. It's reminiscent of the call ropes of fairy tale palaces; give it one tug, the attendant who showed me to my room explained, and all of the lights go out.
It's pure magic.
(Featured photo credit: Roomers Munich)