Hotels take your sleep seriously. With mattresses alone, there's a great deal of research and bed bouncing that happens before they pick one to outfit their rooms. Then it's about finding the right linens and duvets.
Some properties take slumber to a whole new level with snoozy amenities sure to put you to sleep, whether it's an extensive pillow menu, an over-the-top expensive mattress or staffers that will come to your room and read you a bedtime story.
If you value your sleep—and we know you do—check out these hotels and the ways they attempt to provide guests with their best night of rest.
Pillow talk
In New York, The Benjamin equips its rooms with every perk imaginable to ensure you get the rest you've been craving. Working with sleep medicine expert, Dr. Rebecca Robbins, the mid-town hotel has a long list of sleep-inducing amenities. The pillow menu alone has 9 choices, from water-filled to air beads. You can also get sleep masks, earplugs, white noise machines, meditation on demand, decaffeinated teas and a lullaby music library. Need anything more? Just pick up the phone to call the sleep concierge.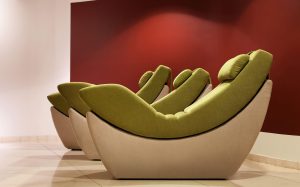 The suite life
The Swissotel Berlin tapped into the knowledge of somnologist Dr. Michael Field to put together the essentials for a healthier slumber. The Deep Sleep package includes light therapy in the morning, a special pillow with a built-in sound machine, use of the PowerNap Lounge, dietary supplements and aromatherapy. And there's also crisp, clean mountain air in this part of Germany that comes free of charge.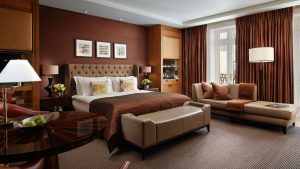 London calling
Top-notch pampering comes bundled in a package called Mindful Sleep, available at Corinthia Hotel London. After a personalized massage with hot stones and warm oil, plus a scalp massage, you'll have a one-on-one session focused on yogic sleep, which teaches visualization techniques for the ultimate in physical and emotional relaxation. It's available through the spa or can be added to a stay.
Also in London, the hip Andaz Liverpool Street will send a pajama-clad staff member to your room to read you a bedtime story. You may want to reconsider wearing your birthday suit to bed.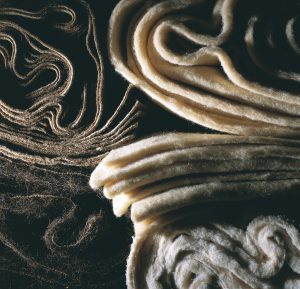 The Rolls Royce of mattresses
It's not likely most of us will spend six figures on a mattress made by Swedish manufacturer Hästens. That doesn't mean you can't try one. There are a few hotels that have them, including The Ivy at Verity in Toronto, the ICON Hotel in Prague, The Scarlet in Singapore, Ecclestone Square Hotel in London and Hotel Saint Cecilia in Austin, Texas. Some hotel guests swear by them. Each mattress takes more than 300 hours to make. They are hand stitched and use 440 pounds of cotton, wool, mohair and horsehair, with a frame made of northern Sweden redwood.
Steal these innovative sleep inducers
Hotels have plenty of experience when it comes to putting people asleep, so take your cue from them for those little touches that can help boost your rest quality.
Miraval Resort in Arizona uses Good Night LED bulbs to decrease the amount of sleep-disturbing blue light.
Starwood Hotels will be rolling out a new room design featuring walls depicting forests, said to help guests adjust their circadian rhythms.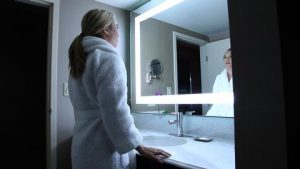 Meanwhile in Las Vegas, MGM Grand Hotel & Casino offers dawn simulators to coax sleepers into a wakeful state gently.
At Four Seasons properties, the housekeeping staff is trained to use a special sheet-folding technique that allows for ample feet wiggling, so guests never feel too tightly bundled.
(Featured photo credit: The Benjamin)