At the end of June, Prince Wills—minus Kate who, we suspect, has other things on her plate ever since little baby Louis entered the scene—made the British monarchy's very first official state visit to Israel.
With all the pomp and circumstance that surrounds such an event, where did the Duke of Cambridge choose to chill at the end of the day? At King David Jerusalem hotel, part of Israeli-owned Dan Hotels chain and a Leading Hotels of the World property.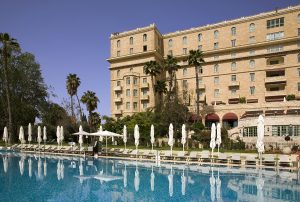 Overlooking the 16th-century walls of Jerusalem's Old City, this grande dame hotel built in 1931 is decorated with Assyrian, Hittite, Phoenician and Muslim motifs throughout and has 233 rooms and suites. Recently renoed, it has four restaurants and lounges, including a spiffy new wine bar that serves Israeli wines, plus a spa and multiple swimming pools.
The Prince and his entourage took over the entire top floor of the hotel, which houses the Presidential Suite, the Jerusalem Suite and, quite appropriately, the Royal Suite. They all feature classically elegant décor, featuring rich colors, wood and textures. Butler included, of course.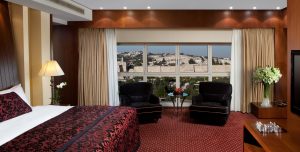 Presidential Suite
This suite is lowest ranking on the King David's suite scale at approximately 1,185 square feet. The duplex suite has two bathrooms, including a nice large en suite with a Jacuzzi tub and private sauna to relieve end-of-day stress, plus a large walk-in closet for when you just have to pack everything.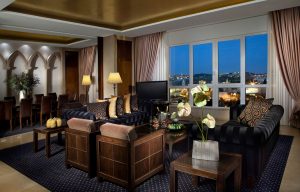 Royal Suite
This suite is also not the big kahuna—that role is filled by the Jerusalem Suite—but it is still pretty posh at 1,506 square feet. It consists of a spacious living area, dining room, small kitchen to prep some snacks and a Jacuzzi in the bathroom. If you want a sauna, this isn't the suite for you. Just sayin'.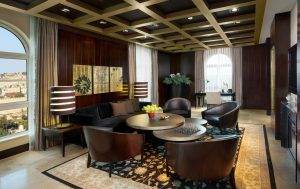 Jerusalem Suite
At 1,670 square feet, this is the King David's most magnificent and largest suite. It boasts an expansive bedroom with en suite, a private meeting or dining room and a kitchenette. It may not boast a Jacuzzi in the large marble bathroom, but it does have a private treadmill to help burn those calories and keep royal calves toned. There are even special security features in this suite to make sure possible future kings and queens stay safe.
(Photos courtesy of King David Hotel/Dan Hotels)