The Four Seasons Hotel George V, long considered one of Paris' premier properties for the well-heeled set, has officially opened its totally revamped spa space as of July 6. The aptly (if unimaginatively) named Le Spa aims to be an oasis of beauty and wellness for hotel guests and locals alike. According to the press release, it will offer "a sanctuary of haute couture tailor-made, results-driven treatments in the bustling heart of the city."
The original spa was closed in 2016 to make way for this paean to pampering, which has been two years in the making. Famed French interior designer Pierre-Yves Rochon designed the contemporary, elegant space and we're guessing you'll be hard-pressed to know whether it's your facial or the reflective qualities of the wall-to-wall, luminous marble that has you all aglow! Rochon relied heavily on a palette of light gray and silver tones. Greek, Roman and Turkish mosaic patterns are highlighted alongside works of modern art by Jeff Leatham.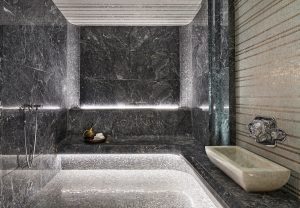 The new space covers a sweeping 720 m² (7,750 square feet) and includes a lovely mosaic, 17-meter (55-foot) swimming pool, a vitality pool with hydro-massage and a fitness area. The fitness center, which spans a respectable 90 m² (970 square feet) features the latest cardiovascular equipment specially designed by Technogym for Le Spa. The area will include treadmills, bikes, ascent trainers, ellipticals and a rowing machine. It is open 24/7 and guests can book private yoga or exercise lessons as well.The spa also features two luxury hammams, a hair salon, five treatment rooms and a Spa Suite for couple's treatments.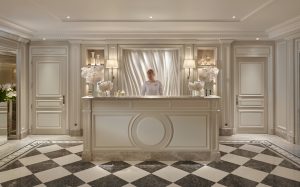 Tailored treatments
In honor of the grand opening, the beauty experts at Le Spa have created several Signature Experiences, including:
Kobido
In Japanese, Kobido means "the ancient way of beauty" and it's said to be the oldest facial tradition in Japan, dating back to 1472. It's rarely offered today and Dr. Shogo Mochizuki came personally to Le Spa to share his expertise and develop the treatment.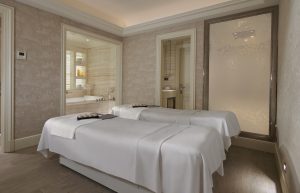 Breath of Life by Alaena
This organic body and face treatment, by Dr. Sylvie Peres from France, is inspired by Tui Na, a therapeutic art of Chinese Medicine. It uses patented active ingredients to boost cell rejuvenation and it has an anti-ageing effect.
George V Escape
Created exclusively for Le Spa by Dr. Pauline Burgener from Switzerland, this luxurious customised antioxidant treatment combines a Chardonnay body scrub, a massage with Champagne oil and a facial harnessing the antioxidant power of gold, Chardonnay and green caviar. A sweet treat of a Four Seasons Hotel George V macaron and a glass of Champagne complete this uniquely Parisian experience.
In addition to the above, Le Spa offers a range of exclusive Swiss Perfection therapies meant to offer spa goers unique, made-to-measure, get-the-job-done treatments.
The facilities of Le Spa will be open daily from 6:30 a.m. to 10:00 p.m., with treatments from 9:00 a.m. to 9:00 p.m.
(Photos courtesy of Four Seasons Hotels & Resorts/Anthony Parkinson Photography)