It's so damn cute that you just can't help but take a selfie in front of it. The Four Seasons Whistler has a new twist on cocktails and adult beverages with the arrival of a restored retro camper.
Guests to the luxurious resort in the mountains this summer can tap into the past with tasty food and highly sippable concoctions served out of this stylish, retired camper, which was built in the town of Port Moody in 1965.
While it's no longer on the road exploring the scenic highways of British Columbia and surrounding areas, you can find it parked in the Four Seasons Whistler courtyard by the inviting fireplace. Relax and breathe in the mountain air while lounging in cushy couches and chairs with cozy blankets on hand to remedy the evening chill. Flowers, chillaxing music and twinkling string lights add to the charm. It's open daily from 1 p.m. to 7 p.m.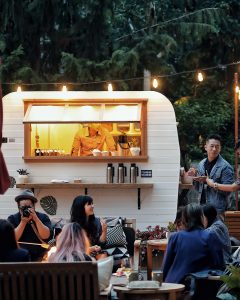 And what's on tap for the thirsty and the hungry? Top tastes include: Red Truck Beer's blackberry bourbon ale, West Coast Cider's Sunset and Sunrise ciders and sophisticated sangria in hues of red, white and pink made with wines from Penticton's Pentage Winery.
The resort's onsite restaurant SIDECUT keeps bellies full with a scrumptious assortment of nibbles, featuring juicy burgers, fresh oysters, a health quinoa and kale salad, tacos made with delectable B.C. spot prawns, ahi tuna poke, plus brie and balsamic pizza.
Once you're satiated, bed down for the night in one of resort's elegant rooms (a total of 178) and suites (95), featuring modern rustic décor complete with a gas-burning fireplace. When not eating and drinking, think about booking a spa treatment, soaking in the outdoor whirlpools, swimming in a heated freeform pool or hitting the links at one of the nearby golf courses. In winter, it's ski central with the slopes of Whistler/Blackcomb beckoning.
Modern or retro, fun knows no limits at this popular mountain playground resort.
(Photos courtesy of Four Seasons Hotels & Resorts)