Built in 1895, The Warehouse Hotel was actually a spice-trade route warehouse, back in the days when this area of Singapore was filled with gangsters and their lackeys. Fast-forward to January 2017, when the loved-up version of this grand building opened as an independent 37-room boutique hotel, featuring a destination restaurant, a glam lobby bar and a cool clientele.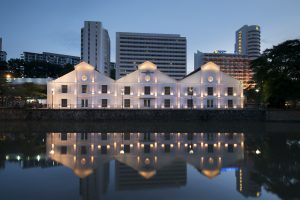 Street cred: It's all about location
The Warehouse is situated on the Singapore River on Robertson Quay, blending in with the riverwalk restaurants, cafés and shops. It is just a short stroll from both Chinatown and the pub-rich districts of Clarke Quay and Boat Quay.
Who hangs here: Is this hotel for you?
Young couples, lots of business creatives, solo business executives and the semi-retired young-at-hearts all find a home here. Expect a fairly international, sophisticated crowd from Korea, the United States, the Philippines and Europe.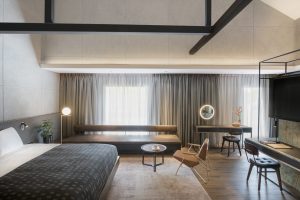 The straight goods: What's in the room?
Sexy, modern rooms have an industrial feel, with muted tones of taupe and grey mixed with green marble, wooden flooring, black metal framing and original brick masonry. It feels like the slick apartment of your coolest single friend. Find lots of attention to detail here, right down to the coffee mugs designed by a local ceramic artist. Minibars are filled with Southeast Asian-specific products, such as Vietnamese chocolate and egg-yolk potato chips.
Bragging rights: What else has it got?
The Bang & Olufsen Bluetooth speaker is a nice touch, as are the eco-certified Ashley & Co bath amenities.
Good eats: Cocktails and cuisine
The bar and restaurant here are big, big draws, for both the visitors and the locals. The 52-seat Po Restaurant is managed by noted Chef Willin Low, a trailblazer in the homespun Mod Sin food movement, which takes the flavors and recipes of traditional Singaporean dishes and gives them a modern twist. The name Po is both an homage to popo, the Mandarin word for grandmother, and a nod to the classic spring roll, popiah. Have the spicy rib soup for breakfast.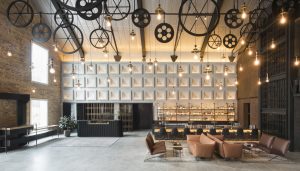 The spacious, 70-seat Lobby Bar whips up incredible concoctions using Asian flavors like kaya, kaffir lime, star anise and cinnamon, with all its infusions and essences made in-house. Try the Madame Butterfly.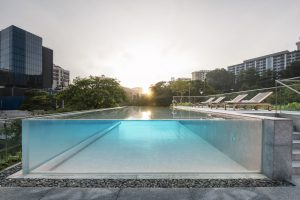 A few of our favorite things: What stood out?
Though small and not really overlooking much except a busy street corner and a gas station, the little infinity pool on the side of the hotel is quite fun. The clear acrylic pool walls will make for more than a few Instagram-worthy moments. Take a sun hat.
Parting shot: If we could change one thing
More task light, please! My room was so dark I thought I was in a perpetual state of twilight, like some kind of restless vampire. More bathroom privacy, too, please!
Standard rooms from SGD$280 (USD$205). Breakfast not included. The Warehouse is a Starwood hotel and a member of Design Hotels.
Doug was a guest of the hotel during his stay. The hotel had no editorial input for this review.
(Photos courtesy of The Warehouse Hotel)