One of Austria's most popular budget accommodations just went from hostel to poshtel. Thanks to a massive renovation, Contiki's Gasthof Schoneck has seriously upped its cool quotient. In a bid to lure travelers who appreciate low-cost luxury, the property has done away with the drab and dated hostel look and replaced it with vibrant, cheeky décor, inviting gathering areas and private washrooms/showers in all the rooms.
The renovation was much needed after 30 years of being the go-to destination for guests looking for a low-cost ski holiday option. Nestled in the Austrian Alps in the Tyrol region, Gasthof won acclaim not only for its stunning views, but for being one of the few places that offered affordable accommodation for snow-loving sojourners.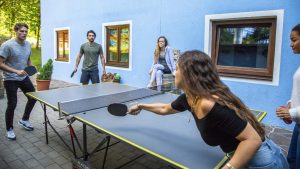 Built exclusively with the millennial traveler in mind, the property's facelift prioritized a funky and fresh vibe that invites lots of socialization and picture-perfect Instagrammable photos. Essentially, it's like walking into a life-size Ikea catalogue.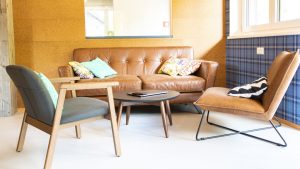 Communal areas highlight atmospheric wood-paneled walls, bright orange paint or flannel-like, lumber-jackesque wallpaper. Comfy leather and plush sofas and chairs are peppered throughout the property and offer the perfect opportunity to play games, chat or just watch Netflix on the huge flat-screen TV. A preponderance of windows makes for a light, cheery space and ensures visitors can always know if the powder on the mountains is fresh.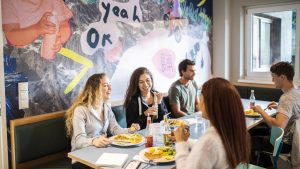 The contemporary dining hall looks more like a hipster brunch hang-out than a cafeteria. It features thick, handmade wooden tables and chic seating and you'll find pork rosti and turkey schnitzel—all served with homemade bread—on the menu. During the day, a stylish, fully-loaded breakfast bar offers warm and cold selections. Vibrant mural collages are a playful reminder to guests not to take themselves too seriously. There's also a large in-house bar, serving local beers and ciders and hot chocolate, of course. The area also hosts a ping-pong table and a dance floor that allows for a much better chance to get to know your fellow travelers than skiing solo down the slopes.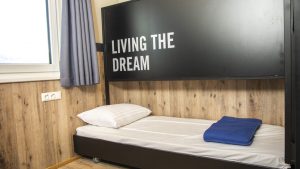 Big windows in the airy single, double, triple and quad share rooms mean you'll get to wake up to a panorama of the Alps after a restful night's sleep on your double bed. You also don't have to worry about running to get in line for a shower because each room has its own bathroom with shower. And, of course, there's lots of charging ports and high-speed Wi-Fi throughout the property. Sticking to a budget has never been so beautiful!