There's a lot going on in the Toronto hotel scene right now. We've taken a look at three recent openings and have decided that there really is something for everyone in this hotel mash-up.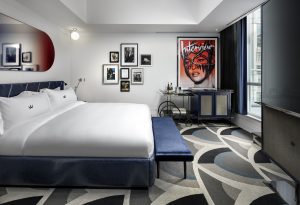 For glamoristas
Bisha Hotel is situated in the heart of the Entertainment District and offers the kind of excitement you might expect of a property owned by Charles Khabouth, the influential Toronto nightclub owner-cum-restaurateur known as Toronto's king of hedonism. From the metallic fuchsia pink Jeff Koons sculpture in the lobby and etched gold reception desk, to the arabesque black and white marble floors and crushed velvet paneled walls that lead to the dark velvet-clad 2,200-square-foot lobby bar, this place is high-stakes glam. In fact, musician Lenny Kravitz signed up to design an entire floor of rooms and suites including a 2000-square-foot condo with a terrace half as big, accessed through two-story-high windows. The rock star's design scheme includes black lacquered wood finishes and matching orange upholstered settees and headboards.
Non-Lenny-designed rooms are still part of the party. They feature graphite carpet with arched patterned details and blue velvet seating that looks straight out of a glamorous 1930s movie. There are drink carts in lieu of minibars and armoires rather than mundane closets. Bathrooms have marble vanities and, on walls, framed black and white pictures of supermodels.
The vibe continues in the restaurants: Professional snowboarder-turned-Michelin-starred celebrity chef, Akira Back, has his first Canadian restaurant onsite, where he serves sophisticated but playful Korean-flavored Japanese dishes on plates that feature artwork inspired by his mother. The wee onsite French Made is what we think every glam hotel should have: a Parisian-inspired café and take-away with buttery croissants and frothy cafes au lait. Meanwhile the 44th-floor rooftop Baja-inspired restaurant, Kost, is in design contrast to Akira and the rest of the hotel. It's white oak paneled walls and woven cotton seating offer light and airy décor. The sprawling terrace, with its lap pool, has some of Toronto's best views and a real South-Beach-in-the-sky feel.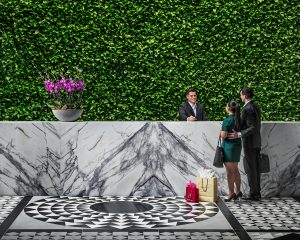 For families
The recently-opened Hotel X is a unique lakefront urban resort that combines cutting-edge design with some of Toronto's oldest architecture. Located inside the Princes'Gate in the Exhibition Place district overlooking Lake Ontario—just west of downtown—it's composed of three buildings including the repurposed historic Stanley Barracks. The hotel is upscale and targets business and convention travelers from October to April. The other months it's got families on the mind: It's the only hotel to offer triple adjoining rooms, and dogs are welcome, too. 
Hotel X feels like a true resort in the city from the minute you step in and are greeted by staff standing in front of an enormous living wall. Keycard in hand, there's nothing left to do but check out the huge entertainment and sports complex that include nine squash courts, four indoor tennis courts, a fitness center, golf simulator, four studios offering yoga and Pilates, a juice bar and a spa.
The 25-meter rooftop pool is the 'piscine de resistance': It's outdoors but is open all year-round. Lined with chic beach loungers, and overlooking Lake Ontario, it really does feel a million miles away from the thrum of the city. Kids are taken care of with a dedicated kid zone, the Children's Play Centre, that offers Lego, toys, art supplies and a kid's library for wee-er ones, and a kid's court area to play hockey, basketball and other sports, video game rooms, and two movie theaters for the older set. (If you're looking for mom, she'll be in the spa.) There are mocktails on offer at the rooftop bar for those too young to imbibe.
And let's not even think of how much cooler the whole experience can be when combined with a visit to the Ex. Hotel X Toronto's location means that during the annual summer fair you can stay directly on the fairgrounds. At the end of the day kids can walk straight from the Ferris wheel to their room where they can slip into a kid-size bathrobe and enjoy a movie in the private screening room. Hotel X Toronto is the secret spy code for heaven in the 416 area.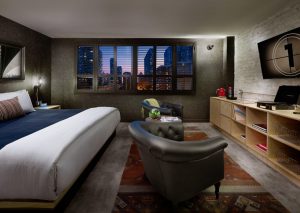 For music-loving hipsters
The new Anndore House is a Brooklyn-hipster-in-Toronto hotel, unexpectedly situated on the edge of posh Yorkville. It used to be a hotel residence, The Brownstone, where the likes of Marlene Dietrich are purported to have set up a temporary home. More recently, the mid-century gem of a building had been operating as a dowdy Comfort Inn, one that nonetheless housed one of Toronto's heppest jazz bars. From 1994-1999, Louis Janetta's Place, with legendary maître 'd Louis Jannetta, hosted some of the music world's biggest names including Tony Bennett and Eartha Kitt. The new incarnation of the all-brick building pays tribute to its music past with details like Crosley record players in each of the spacious industrial loft-style rooms designed by Cecconi Simone (though the record player is Bluetooth-compatible so you can tune into your own playlists) and a curated collection of ready-to-spin vinyl from Kops on hip Queen Street West to play while you stay.
The hotel hosts a resident DJ series in the bar on Thursday nights. Owners of the hotel, the Silver Hotel Group, have redone it with all kinds of other street cred touches like adding an outpost of retro-cool Crows Nest Barbershop. Eating hot spots include Constantine, helmed by Craig Harding of Toronto's La Palma and Campagnolo fame, and outstanding bakery/café, the Scarlet Door.
(Featured photo courtesy of Brandon Barre/Bisha Hotel Toronto)