Science knows well that the quickest way to evoke a memory is through your nose. That fact is not lost on hotels, which explains why they spend a great deal of time and money creating a signature scent. They understand that if it can embed the time, place and experience into your brain it will, hopefully, be powerful enough to get you to book a return visit.
How a hotel smells is also a critical element that will shape the first impression for a guest. Ever walk into a property that smells musty? Your inclination is to run the other way.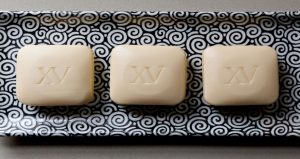 There are a number of perfumers who specialize in creating the right aromas destined to waft through a hotel. They tend to lean on woodsy notes because both men and women like them. The scent at Boston's posh XV Beacon is a good example, boasting frolicking-in-a-forest type notes, along with subtle touches of mandarin, bitter chocolate and magnolia. Scent choice also depends on the demographics of a hotel's clientele. These custom creations set the proper mood for a stay. The Ritz Paris introduced an exotic, amber-based scent more than 20 years ago. Repeat guests have come to expect it when they walk through the door.
While some fragrances are exclusive to a single hotel, other hotel groups go for consistency across all properties. Sofitel Hotels & Resorts aims to transport its guests to the French countryside—regardless of where they are visiting. Its signature scent is a blend of lemon leaves, French vanilla, patchouli, bergamot, jasmine of Grasse, white rose and sandalwood.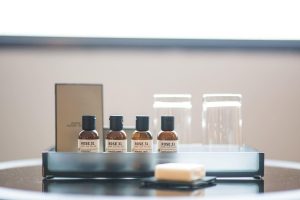 Fairmont Hotels & Resorts partnered with fragrance house Le Labo in 2011, and the Rose 31 fragrance has been used almost exclusively since then throughout Fairmont properties. (Some properties follow their own nose with their own creations, like The Savoy's herbal and woodsy Savoy Steam by British perfumer, Penhaligon's). Rose 31 is a modern yet classic scent that reflects the hotel brand, featuring 31 ingredients centered around the rose of Grasse. The warm, rich notes include cumin, cedar and amber.
Shangri-La properties worldwide strike the right note with a scent designed to help make guests feel calm and serene. It features vanilla, sandalwood and musk and top notes of light bergamot and tea spiced with ginger. Six months went into creating this dreamy concoction and the time and care has paid off. It has become so popular among its clientele that it offers room sprays, fragrance oil and candles for sale.
Many Four Seasons hotels go their own way with their own signature scents. In Austin, Texas, the property leans heavily on native flora, like figs, sandalwood, cedar and coriander. In Chicago, the hotel takes it cue from the local geography with a lake breeze-inspired scent.
While many of us adore a well-crafted scent and the way it lights up the pleasure zones of the brain, some hotel guests are scent adverse because of allergies and sensitivity to chemicals. We're sad for those people sincerely and truly. Travel must be hell sometimes. That may necessitate a quick call to the hotel to ask about their scent policy and choose accordingly.