So, you think a traditional massage is relaxing? Just imagine how r-e-l-a-x-e-d you'll be after a massage that features cannabis (well, at least a cannabinoid extract). One of the country's premiere, all-inclusive wellness retreats, Ste. Anne's Spa, has just introduced a new line of treatment products designed to take your massage to the next level.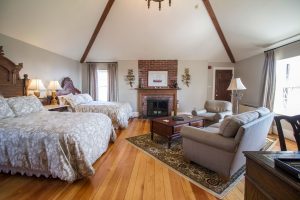 Renowned for its tranquil country setting, atmospheric accommodations and varied wellness activities, Ste. Anne's has always been a hotspot for healing. The new cannabis-infused Canna Massage reinforces the property's standing as a forward-thinking spa by bringing cannabinoid therapy to the treatment room.
The massage offers guests herbal rejuvenation using essential oils infused with CBD (which is the non-psychoactive cannabinoid extract from the hemp plant). CBD is well-known for its pain-relieving and anti-inflammatory properties and is said to help promote relaxation, revitalization and healing.
"The CBD massage is the ultimate in relaxation and natural health—it's non-intoxicating and has a broad range of benefits," says Natalie Koshowski, spa director at Ste. Anne's. "It will include an aromatherapy element to induce an even deeper level of relaxation." The massage will feature Ste. Anne's new, hemp CBD-infused Relax Massage Oil, which will encourage muscles to more deeply loosen for a more soothing and effective massage.
And don't worry, you don't have to get high to heal! Ste. Anne's emphasizes that cannabis-derived CBD is vastly different than cannabis-derived THC (the derivative that gives people a "high"). Rather, CBD is a scientifically proven effective anti-inflammatory, with antioxidant, anti-anxiety and pain relief properties.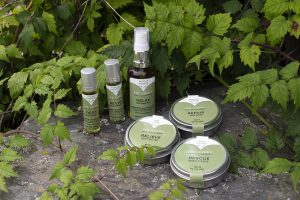 Ste. Anne's has also introduced hemp's restorative properties into their signature skin care line. "CBD nourishes and moisturizes the skin and can help to repair damaged and troubled skin and heal it," says Koshowski. The new Skin Nourishment CBD line, featuring 100% pure botanical ingredients, will offer Relief Body Butter made with the nourishing natural butters of ucuuba and kokum to help with eczema and psoriasis. The line also features a Rescue Muscle Salve made of arnica and black cumin seed oil to help relieve inflammation from conditions like arthritis and sciatica.
Ste. Anne's Repair Skin Salve is a CBD-infused beeswax salve with calendula, chamomile and lavender and can be used topically to repair skin, reduce inflammation, and take care of bug bites, bruises, rashes and scrapes. Their Revive Aromatherapy Oil combines hemp with peppermint and eucalyptus oils to help ease headaches and migraines when applied to the forehead and temples. The new Rest Aromatherapy Oil has lavender, marjoram and vetiver and a hint of hemp to promote sleep and calmness.
With the upcoming legalization of cannabis in Canada, Ste. Anne's has plans to add even more hemp-infused products to its skin care and wellness offerings. It appears cannabis is king for what ails you.
(Photos courtesy of Ste. Anne's Spa)