Chile just got a little more luxurious. This September, upscale, experiential company andBeyond opened its very first lodge outside of Africa in Chile, South America. Nestled in the country's gorgeous Lake District, andBeyond Vira Vira is the brand's first attempt to take their "luxury lodge" ethos, that does so well in Africa, to another country. If the photos are any indication, it looks like they've succeeded!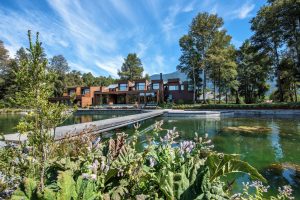 The lodge is located on an organic farm on a stunning 22-hectare (54 acre) estate peppered with verdant parklands and lagoons, rivers and panoramic views of the Villarrica Volcano. With Vira Vira, andBeyond sought to blend the best aspects of Chile's Lake District with the heritage of the Mapuche people. Much of the property features the work of Chilean designers, such as architect and furniture designer, Santiago Valdés, as well as local antiques, Mapuche artifacts and artwork from local artists.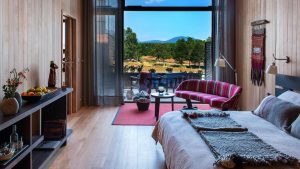 There are six suites, 12 villas and a five-bedroom, sole-use Hacienda, and all feature air-conditioning, under-floor heating and Wi-Fi throughout. The six suites are individually decorated with curated objects and authentic local materials and fabrics. These elegant rooms also include a private terrace and offer lovely views of the lagoon and park or the Liucura River.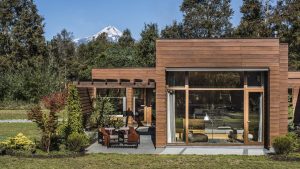 The airy, split-level villas are also individually decorated and lie on the shoreline of the Liucura River. The large, floor-to-ceiling windows ensure you can truly soak in the vistas. Each villa also has a fireplace, a large terrace overlooking the river and an outdoor bathtub.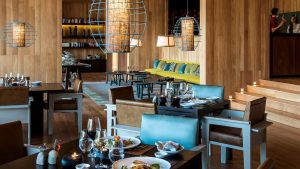 The main area of the lodge is built from local lenga wood and has enormous windows to make the most of the incredible light and natural panorama. The dining room embraces the farm-to-table movement by serving foods sourced from the lodge's farm (including cheese made on-site). You can toast the awe-inspiring views with a selection of over 1,000 different Chilean wines and unwind after dinner by stargazing from one of the property's two outdoor hot tubs.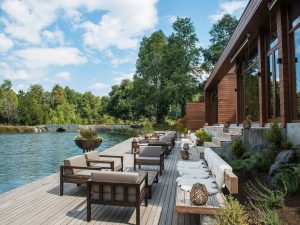 Vira Vira also has an incredible roster of wellness and adventure activities. You can participate in a relaxing yoga class or get your heart pumping with horseback riding and white-water rafting. The lodge also offers scenic helicopter flights. During Chile's winter season, you can enjoy skiing, snowboarding and snowmobiling. With so many activities, we're betting you'll get lots of use out of the property's hot tubs to soothe those sore muscles.
Rates at andBeyond Vira Vira start at US$685 per person per night.
(Photos courtesy of andBeyond)