Put down that steak knife! November 1 is World Vegan Day (which leads into world vegan month) and some luxury hotels are paying homage to their cruelty-free clientele by introducing special menus at their restaurants. One establishment leading the vegan culinary scene in the UK is London's La Suite West Hotel, a serene minimalist property designed by famed British designer Anouska Hempel.
The chic boutique hotel is home to London's first vegan French pâtisserie, Café Forty-One, and to kick off World Vegan Day they are introducing a new autumn/winter menu. The vegan-only restaurant offers sumptuous breakfast and lunch menus, as well as a vegan version of the British Afternoon Tea.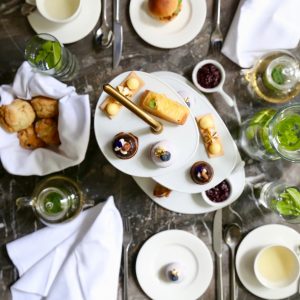 With her inspired creations, head chef Clarisse Flon seeks to turn plant-based food stereotypes on their head. She offers imaginative and unexpected twists on classic dishes. The restaurant's seasonal menus highlight British and French dishes.
The autumn/winter menu is a feast for any foodie—meat loving or not—and combines some of the existing menu favorites with exciting new additions to create a distinctive and palate-pleasing vegan breakfast, lunch and all-day dessert menus that reflect the changing seasons.
Breakfast features such delectable dishes as a warming mushroom and black bean porridge, which is made from hearty autumnal ingredients like button mushrooms and black beans topped with vegan 'bacon.' For guests who prefer something a little sweeter, the delicious brioche French toast with perfectly roasted plums promises a welcome way to begin the day. Served with vegan yogurt and sliced almonds, it's a must try.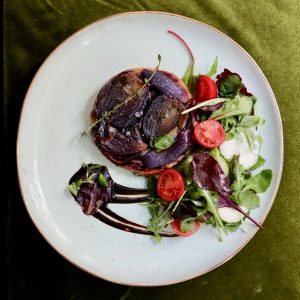 The vegan lunch menu showcases rich sweet potato dauphinoise with crispy pulled aubergine. Truffle polenta with wild mushrooms includes oyster, shimeji and shitake mushrooms, which are then stewed in a creamy Dijon mustard sauce with toasted truffle polenta and root vegetables.
One of chef Flon's signature dishes is alpine ravioles with fresh slaw, which features sundried tomatoes and a smoky glaze. Ravioles are a specialty from the French alps, where chef Flon grew up. Usually made with tome, a hard cheese from cow's milk, she has cleverly developed a special vegan version with a flavorful non-dairy cheese.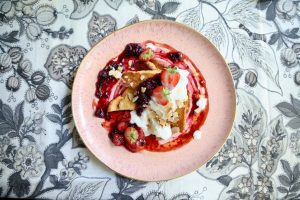 The desserts are another standout at Café Forty-One. Chef Flon is famed for her vegan take on normally milk- and egg-centric desserts. Some examples include quince and apple tatine with red currants and served with chestnut cream and apple crisps. Roasted figs with caramelized almonds and honey rice pudding come with white chocolate almond shards and a crispy tuile.
The poire belle Helene with pecan praline is a particularly delicious option and features vanilla-poached pear in a biscuit dome served with pecan praline, hazelnut biscuit and caramelized pecans with a hot chocolate sauce. This decadent dessert is chef Flon's favorite. She explains that "Poire belle Helene is a classic French dessert usually made with a vanilla poached pear served with hot chocolate ganache. Our take on it is slightly different—the pear is presented in a chocolate dome that will melt when you pour the hazelnut and chocolate ganache on your plate. We have also added our favorite winter flavors in the form of a pecan praline crème pâtisserie, some hazelnut cakes and a deep, dark chocolate ice cream to create a 'chaud-froid' contrast between hot and cold." No matter how chef Flon describes it, we think there's never been a better time to give veganism a try!
(Photos courtesy of Cafe Forty-One/La Suite West Hotel)