In a hard-edged city like New York, with its fast-paced pedestrians, gridlocked traffic, and the sounds of commerce and impatience filling the air day and night, it can be difficult to find serenity. With its 1920s gilded age glamour, modern touches and residential feel, WestHouse New York manages to filter out the noise and be an oasis in the city. This boutique hotel property provides an experience similar to what one might imagine living in an elegant Uptown apartment, just a few blocks away, would feel like.
Street cred: It's all about location
WestHouse is a 172-room hotel in Midtown Manhattan. It's an independent property, part of Small Luxury Hotels of the World. Located at 55th Street and 7th Avenue, the hotel is within short walking distance to many of the city's cultural landmarks, such as MoMA, Carnegie Hall and Lincoln Center, as well as the city's green heart, Central Park. The bustle and crowds of Times Square and the Theater District aren't far away either, but not so close as to have an impact on a good night's sleep.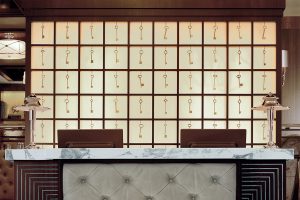 Who hangs here: Is this hotel for you?
WestHouse attracts a mix of business people, international guests and couples on a city getaway. It can also accommodate families with children. The hotel operates on a premise that it is your 'house away from home' and works hard to make that a reality. After a day of pounding the concrete sidewalks from the Bowery to Broadway, it is a sweet relief to come in from the busyness of the city and breathe in the slightly perfumed air of the lobby and your room.
The lobby atmosphere is welcoming and subdued. It has been designed in a casually elegant way with plush couches, wingchairs and warm lighting in Art Deco fashion by Jeffry Beers international.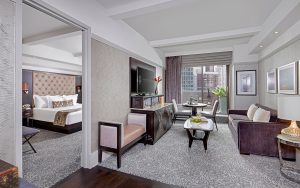 The straight goods: What's in the room?
The rooms are styled in gilt-edged luxury that reflects the artistic nature of the Midtown area. Suite décor features framed prints of musical instruments and sheet music, while the room accents lean to shiny, warm gold and bronze tones. You don't visit New York to spend excessive time in your hotel room, but you could comfortably spend longer spells enjoying room service in your robe and not feel guilty about staying in for a night.
WestHouse features a variety of rooms and suites, including accessible suites with roll-in showers. The Two Queen bedroom suite offers 325 square feet of living space that can accommodate up to four adults. Guests can choose from a city or more tranquil courtyard view. The room features a 46" HD LED television, work desk and ergonomic chair, plus a settee that doubles as a luggage rack. There's an in-room safe, umbrella, robes and ironing board, and plenty of electrical outlets.
The curtains provide nearly total darkness and the city sounds are kept to a minimum, ensuring a good night's sleep. The heating and A/C controls are easy to access and use, and the system leans to the quieter side of operation.
Queen beds are comfortable, made up fresh daily with 400 thread count Sferra luxury linens. For guests occupying a Terrace Suite, WestHouse offers a unique bedding system made by New York's own SoHo-based Sleep | Studio.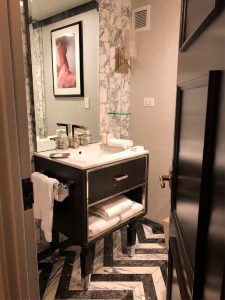 The bathrooms are spacious and tiled in beautiful patterns of white, grey and black marble. Luxurious bath and body products are from DayNa Decker. Hair styling tools are from ghd. There's a glass-front rain shower with excellent water pressure. The shower glass includes a little cutaway for guests to reach in and turn the water on without having to step in the shower to do so, an ingenious feature.
The bathroom has a makeup mirror and feature mirror, as well as a full-length mirror in the hallway visible from the bathroom. The white towels are from Sferra and the room was well-stocked with linens that can be changed daily, if required.
Daily housekeeping is friendly and efficient. The rooms are clean and well kept, with daily complimentary bottled water and turndown service available on request. The hotel's signature Sanctuary scent is noticeable in the room in an ambient way that is not overly intrusive.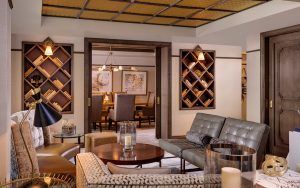 Bragging rights: What else has it got?
In keeping with its residential design, WestHouse charges a nightly resident fee of US$47 (plus tax) per adult. This includes a variety of 'InResidence' privileges, such as daily hot breakfast buffet, all-day barista bar and non-alcoholic beverages, and evening light fare with wine and beer in The Terrace, as well as high speed WiFi, 24-hour fitness center, complimentary bottled water and other amenities.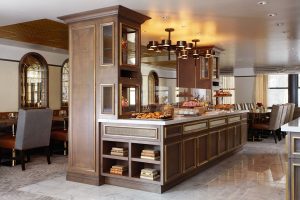 The buffet breakfast is generous. It includes a self-service espresso and barista bar machine, a selection of fruit juice, sweet and savory hot items like eggs, sausages, quiches and waffles, as well as fruit, cold cereals, pastries, yogurt and granola. You can stock up on some fruit and granola bars for the day on your way out without any guilt. The outdoor seating area of The Terrace offers some great city views to the south of Manhattan and west to New Jersey.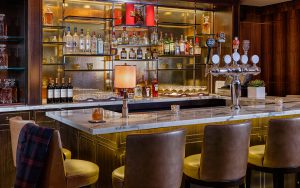 Good eats: Cocktails and cuisine
The hotel bar, The Den, is off of the main lobby and has the feel of a cozy speakeasy. There are private nooks with curtains, plush couches and fireside armchairs in which it's easy to spend a few hours nursing the Den's unique take on an Old Fashioned—the cacao fruit-infused Oldie But Goodie.
Note that there isn't a full-service restaurant in the hotel.
A few of our favorite things: What stood out?
As with many other luxury brands, WestHouse has its own scent that it pumps into the air as a way to fully immerse guests into the experience. The WestHouse fragrance was made in partnership with olfactory company 12.29, which custom-designed the scent based on the hotel's character.
The WestHouse fragrance is 'amber, dark, mysterious and smoky.' Called Sanctuary, it's meant to evoke a cozy, private hotel experience through the use of warm spice scents, amber resins and tobacco. After hours of breathing in the city's brew of garbage, horses, cigarettes and gasoline, enjoying the sensory experience of Sanctuary can be very welcome indeed.
Parting shot: If we could change one thing
It would be ideal to have a secondary barista bar machine available in case one conks out in the middle of breakfast service.
We found rooms in February 2019 starting at US$233 per night.
(Photos courtesy of WestHouse New York except as indicated)