Rustic but elegant, simple but luxurious, private but personable—this Caribbean retreat 65 kilometres south of the big island of St. Vincent leans on its natural beauty to dazzle luxury-seekers from around the world. Opened in 1968 and partially renovated in 2008, Petit St. Vincent has an old-fashioned camp aura about it, one that you will quickly get used to.
Street cred: It's all about location
Part of the Small Luxury Hotels of the World group, PSV is the southernmost island in the St Vincent island chain in the Lesser Antilles, on the same latitude as Nicaragua and straight north of Trinidad and Tobago. The resort is about 20 minutes by private boat from Union Island, where you will most likely fly into via Mustique Airlines. The resort hosts meet you on the dock and whisk you away.
Who hangs here: Is this hotel for you?
Cottages and villas are filled with people well acquainted with the distinctly elevated comfort that money can buy. Many want privacy and off-the-grid isolation, yet without sacrificing the pampering and smooth service that PSV provides in thick layers. You will meet Americans, English, Europeans, Australians and more; semi-retirees, families looking for quality time and special-occasion celebrants, including honeymooners. Some people visit (including celebrities the hotel won't mention) and never leave their cottage, keeping to their private terraces and bluff views, ordering every meal in. It's easy to see why.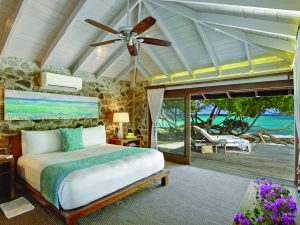 The straight goods: What's in the room?
Rustic reigns in the 22 one- and two-bedroom villas—brick walls, exposed ceilings with fans, wooden lamps, mahogany sideboards—island living with a dash of ritz. Glass doors open out onto a private terrace or beach nook complete with an outdoor minibar and hammock, tables for dining and ideal spots for lounging. Big wooden-framed screen windows can be shut if you prefer the air conditioning. There are phones (which you won't use) but no TVs and certainly no internet except near the lobby.
Bragging rights: What else has it got?
In keeping with the old-school sensibility, the resort still uses a flag system for room service, a quirk still in practice 50 years on. When you need something—a bottle of Champagne, repairs to anything, a nice lunch—you fill out a menu card, slip it into a little wooden tube by your cottage gate and raise a yellow flag. Butlers drive around in powder-blue utility vehicles, wandering past your gate every 15 minutes or so, collect your request and carry it out.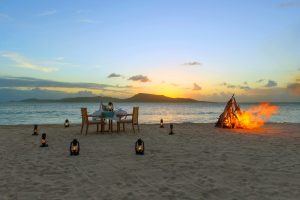 Good eats: Cocktails and cuisine
Breakfast, lunch and dinner can be had at the resort's Pavilion Restaurant, surrounded by wooden terraces laced with frangipani and hibiscus. The Beach Restaurant is a more casual, candlelit affair right on the sand at the water's edge beside the beach bar. The kitchens make full use of the fruits of the sea, incorporating as many island-grown fruits and vegetables as possible. The wine cellar is housed in what was once a water tank and sports about 4,500 bottles, including an exclusive collection of Champagne.
A few of our favorite things: What stood out?
The Jean-Michel Cousteau Diving Center is one of only two in the world (the other in Fiji). As you would expect, the team and equipment are top-notch, including a very nice boat. Approximately 20 dive sites are all within easy reach and offer extraordinary variety in terms of underwater inhabitants and scenery. When extreme pampering is in order, a massage in one of the treehouses at the Balinese-inspired Hillside Spa will cure what ails.
Parting shot: If we could change one thing
A few more signposts would be welcome. I got lost, well not really lost, but sidetracked more than twice, and it wasn't even that dark yet and no alcohol was involved.
Rates from US$1,200 per night based on double occupancy, and this includes meals.
(Photos courtesy of Petit St. Vincent)
Doug was a guest of the hotel during his stay. The hotel had no editorial input for this review.