As of November 20, the city of Asheville, North Carolina will up its hip-and-happening quotient significantly thanks to the opening of a new and oh-so-styling luxury hotel.
The Foundry Hotel, part of Hilton's bespoke Curio Collection, is housed in a restored historic steel foundry. Located in the colorful Block neighborhood just minutes from downtown, the property is an homage to the craftmanship of the former foundry, from which much of the steel that went into the city's most historic, grand estates like the Biltmore (the largest private residence in the U.S.) were made.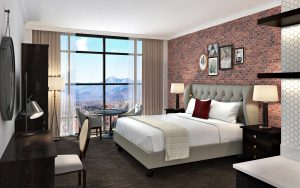 The hotel has retained numerous authentic architectural components and artifacts, like the original pulley elevator, exposed beams and industrial-style windows. Rooms at The Foundry are a clever combination of a nod to the past (tile work and exposed brick) and a modern aesthetic (complimentary Wi-Fi, wet bars, Nespresso coffeemakers, luxe marble bathrooms and waterfall showers). You'll also have your pick of mountain, city or garden views.
If you decide to go all out for the 1,500-square-foot Presidential Suite, you'll enjoy two bedrooms, two bathrooms, a separate living and dining area, as well as a large furnished outdoor patio. Especially attractive additional hotel perks are the Tesla Model X house car complete with chauffeur that guests can call on to drive them around downtown Asheville.
Make sure you check out the hotel's Benne on Eagle restaurant, which is led by the locally lauded (and five-time James Beard nominated) chef John Fleer. He offers a unique Appalachian soul food dining experience that relies on the property's own herb garden to help capture the southern flavors of Blue Ridge cuisine. Sip on an after-dinner drink at the Workshop Lounge, which includes carefully curated cocktails highlighting organic, locally-distilled spirits and take in live music as you unwind in front of the lounge's fireplace.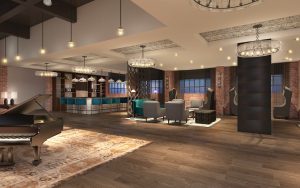 The hotel also offers a variety of specially designed tours, including walkthroughs of the historic property and foundry accompanied by the on-site historian, as well as private 'hood tours' that are led by locals from The Block neighborhood. If you're looking for an immersive outdoor adventure, there's also interactive botany lessons of the hotel's courtyard led by the North Carolina Arboretum, luxury fly-fishing excursions and local wildflower bouquet-making workshops.
To celebrate The Foundry's launch the property is offering an exclusive Grand Opening Celebration Package that reflects the quintessential Asheville getaway. The package features a two-night stay in a large corner studio suite, a dinner for two at Benne on Eagle, transportation on the scenic Blue Ridge Parkway and entry tickets to visit the Biltmore Estate and a tour of Asheville's best microbreweries.
(Photos courtesy of The Foundry Hotel)