The boutique hotel, 'Alohilani Resort in Waikiki, opened this past December 2017 and, to celebrate these good tidings, it is offering the 12 DJs of Christmas.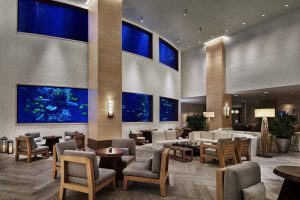 Each night from December 19-30, 2018, a different DJ will spin tunes at O Bar, surrounded by the hotel's large fish-filled Oceanarium, from 9-12 pm. Celebrants can warm up the night by shaking a little booty to music ranging from feel-good tropical house and '80s pop remixes dished out by the likes of DJ KK Keala Kennley, party-hearty rock with DJ Revise to bass and ambient with DJ Packo. One of these grooves is sure to be your thing.
And as the beat goes on, you'll be able to sip on a new nightly signature holiday cocktail, including Christmosas, Jingle Juice, Christmas Cosmos and Yuletide Mules.
If you aren't in the Oahu area, though, we're happy to spread some good cheer of our own by sharing these recipes courtesy of the 'Alohilani Resort to warm you up as you sway to the music coming from your local fireplace TV channel.
Spiced Apple Margarita
2 oz Casa Noble Crystal tequila
.75 oz Lemon juice
.25 oz BG Reynolds cinnamon syrup
2 dashes Angostura bitters
2.5 oz Sparkling cider
Method:  Add lemon juice, syrup, bitters and tequila to a highball glass. Fill with ice and top with sparkling cider.
Garnish: Thin apple slices and cinnamon stick
Santa on Holiday
1.5 oz Bacardi Silver Superior rum
.5 oz D'aristi Kalani coconut liqueur
.5 oz Lime juice
2 oz Pineapple juice
8-10 Mint leaves
2 tbsp Strawberries cut in small pieces
Method: Muddle mint with lime and pineapple juices. Add rum and ice. Top with strawberries.
Garnish: Mint sprig, pineapple wedge and paper umbrella
Yuletide Mule
1.5 oz Grey Goose vodka
.75 oz Lemon juice
.5 oz Taylors Velvet Falernum
3 dashes Angostura bitters
Fever Tree ginger beer
Method: Drop bitters to the bottom of a highball glass and add ice. Add lemon, Falernum and vodka to highball. Fill with ice and top with ginger beer.
Garnish: Kaffir lime leaf and cranberry on bar pick, star anise pod
Jingle Juice
1 oz Bombay Sapphire gin
.5 oz Disaronno liqueur
.5 oz Aperol Aperitivo drizzle
.5 oz Lemon juice
2 oz Pineapple juice
Club soda
Method: Add Aperol to highball glass and fill with ice. Add juices, all other ingredients and ice to a shaker. Shake and strain over Aperol in highball. Top with club soda.
Garnish: Mint sprig pierced into cranberry
The Grinch
1.25 oz Bombay Sapphire gin
.5 oz St Germaine elderflower liqueur
3 Cucumber wheels
8-10 Mint leaves
.75 oz Lime juice
.5 oz Simple syrup
Method: Muddle cucumber and mint with lime and simple syrup. Add liquors, fill with ice, stir to combine.
Garnish: Rosemary sprig spearing cucumber wheel and cranberry
And to all a good night!
(Photos courtesy of 'Alohilani Resort)