After a day exploring the City of Lights, it's essential to have a place to hang out, make friends and indulge in a libation or two before bedtime — all the better if that place happens to be just a short elevator ride from your hotel room. In Paris, a vibrant cocktail culture is alive on every corner and hotels have stepped up their game to compete. Here are five hotel bars that have seriously impressed us.
THE SHELL AT GRANDS BOULEVARDS
Bartenders go to work serving up a seasonal menu of innovative drinks from a gorgeous, art deco bar. The Winter Colada brings a summery splash of rum to a cold weather cocktail that warms from the inside with maple, pumpkin, cinnamon and almond flavors. It goes perfectly with the cozy interior and speakeasy feel of the bar, a member of Paris' groundbreaking Experimental Cocktail Club.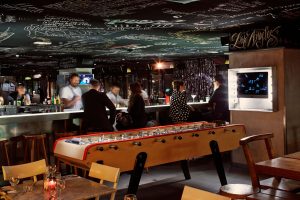 THE BAR AT MAMA SHELTER PARIS EAST
Mama Shelter Paris East's bar space is like a super hip campus pub where the entire world's young and cool crowd hangs out in a casual atmosphere that features foosball tables, graffitied ceilings and a neon green performance space that hosts local bands. Behind the bar, there's a bit of everything including beers from across the globe and the house's very on-brand Mama Loves You cocktail, a mix of vodka, apricot brandy and cranberry juice.

THE SAINT JAMES LIBRARY BAR
The elegant Library Bar draws a sophisticated (read: not in their twenties) crowd there to sip the Saint James' selection of champagne cocktails and extensive list of whiskeys including a range from Japan. The Saint James is part hotel, part private members club and the bar is only open to the public during evening hours. Check the opening hours before you go, but know that the bar makes a trip to Paris' 16th arrondissement well worth it.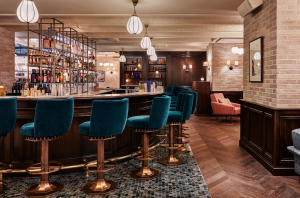 THE HOXTON'S RIVIE
With the opening of each new Hoxton hotel, the franchise ups its style game while still offering the same friendly and attentive service. Not to be outdone, the international crowd at the Rivié provides some serious competition for the chic local set, perching atop aquamarine velvet bar stools sipping craft cocktails like La Bulle Normande, a blend of rosé cider, cherry liqueur and grapefruit.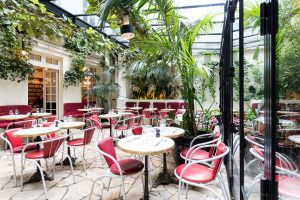 THE LOVE BAR AT HOTEL AMOUR
The veranda bar at Hotel Amour in the Pigalle neighborhood is one of those rare hotel hangouts that regularly brings in a big crowd of locals. Credit goes to the bar's charming covered courtyard, perfect snacks, and unique list of signature cocktails. Order Le Fruit du Desir, which blends apple and rhubarb with hibiscus… and that most crucial element—vodka.
To see more of our favorite Paris hotels, have a look here.