At very few hotels in the world can you feel the weight of history. Some hotels are historic, yes, and beautiful, but only a handful feel like they are woven into the history of a destination, revealing secrets of its prior inhabitants and empires. The Çırağan Palace Kempinski Istanbul is one of those rarities that carry its past as it moves forward.
Before the Çırağan Palace opened in 1871 as the home of Sultan Abdülaziz, the estate was part of a popular early 17th-century garden. Other villas and palaces existed on its landscaped grounds. (When you walk through the hotel to go the hotel's swanky Tuğra restaurant, you pass priceless marble pillars and artifacts found from earlier builds.)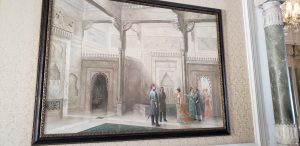 Its first celebrity guest was Empress Eugenie—wife of Napoleon III—who stayed here while on her way to open the Suez Canal. She returned often to the sultan's home, supposedly to partake of the healing hammam and, perhaps, to experience the personal "hospitality" of the sultan himself. Wink, wink.
The Palace also played host to the Turkish parliament after it was announced the country was employing a constitutional monarchy.
Today, Çırağan Palace has been renovated to hold the hotel's most exclusive suites and feels like a private residence. A modern building beside it is its grand younger sister that houses most of the rooms. She has an elegant style and is at the center of all the action.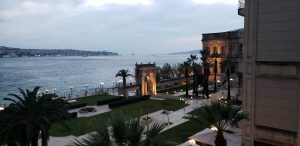 Street cred: It's all about location
Views don't get any better than this in Istanbul. The Çırağan Palace Kempinski sits on the shores of the Bosphorus Sea, looking out to the city's Asian side. It is surrounded by the maze-like streets, casual cafes and lively bars of the Ortakoyneighborhood.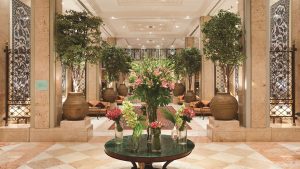 Who hangs here: Is this hotel for you?
The hotel attracts a wide range of guests to its glorious interiors. Business leaders brokering deals, multi-generational family gatherings and couples on a getaway comprise the well-heeled clientele.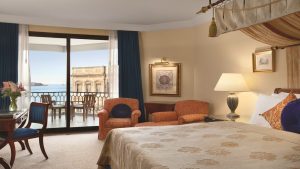 The straight goods: What's in the room?
All of the spacious rooms at the Çırağan Palace Kempinski have balconies—particularly fabulous if you get one overlooking the lively Bosphorus, the hotel's pools and original 17th-century gate.
Its 310 rooms and suites are elegantly decorated in creams with coral and blue accents, and include traditional Turkish motifs. But with that classical décor you'll find plenty of mod-cons: large flatscreen TV, free Wi-Fi and a minibar with complimentary bevvies. (As the tap water is undrinkable in Istanbul, your supply is constantly replenished as well.)
In my Superior Bosphorus View room, the comfy king bed (or two twin beds) comes with an extensive pillow menu. If you stay for a full week, you still won't have made it through the nine available options. There's an oak desk with enough sockets for your devices and even a vase with a fresh flower on it to keep you cheery while you work. The bathroom contains a bathtub/shower combo, a bidet (always a bit of a mystery for Westerners) and is stocked with Salvatore Ferragamo toiletries in a wonderful woody, citrus scent.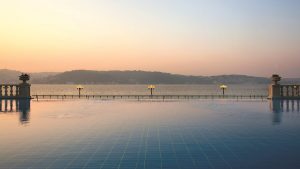 Bragging rights: What else has it got?
The hotel has the full-service Sanitas Spa, a lovely retreat with Turkish bath, whirlpool, saunas and steam rooms, an indoor pool and plenty of treatments, ranging from ayurvedic therapies to gold facials. There's also a heated outdoor infinity pool for you to use all-year round. If you want some exercise, there's a fitness center and, to exercise your wallet, there are plenty of luxe shops onsite.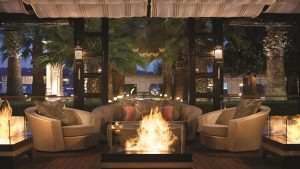 Good eats: Cocktails and cuisine
There are no fewer than five restaurants and lounges at Çırağan Palace Kempinski, each with their own je ne sais quoi. Laledan Restaurant is the spot to go for a spectacular breakfast. Over 250 items, most of which are organic, overwhelm you with choice. There are traditional Turkish and Middle Eastern specialties, North American dishes and Asian options, too. The staff are so good that, not only do they remember you, but they remember what drinks you like and order them for you before you sit down. Be sure to try some of the homemade lemonades. One tip: Make sure you walk the entire buffet area before making your choice. There's more to it than just the upper level.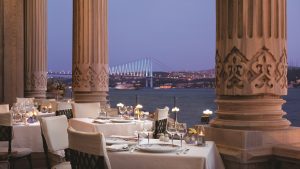 The hotel's fine dining restaurant, Tuğra, serves delicious foods inspired from recipes that date back to the Ottoman empire, served in Topkapi Palace. Dishes come with an explanation of their origin. Kulbasti, which is grilled beef tenderloin or lamb loin with smoked eggplant, fried artichoke, goat cheese and pomegranate sauce, was served at the official banquets of Sultan Mahmud II during 1784-1839. And if you've gone through life thinking baklava is too sweet, try the authentic version here. The different varieties are still soaked in honey, of course, but the sweetness is balanced by sumptuous clotted cream, and they are so ooey-gooey good. Besides, baklava is good for you. In the 7thcentury, it was eaten for medical reasons. If you have a chance to sit outside, do. The views over the Bosphorus as you sit amongst the marble pillars of the old palace are breathtaking and undeniably romantic. There must be at least one proposal a night taking place here.
If you're looking for something a bit more casual, the Gazebo Lounge off the lobby is the place. Bright and airy, here's where to get a burger, pizza or kebab, or even just a Turkish tea or coffee to get you through the day. And no—the Hot Cocoa Bar is not just for kids.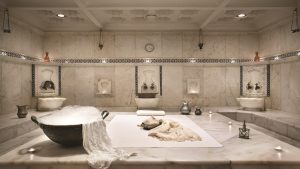 A few of our favorite things: What stood out?
One word: hammam. Nowhere else is this Turkish experience so innocently personal. After the attendant soaps and sands you all over, he or she washes your hair with a fragrant froth and rinses you off. Once your treatment is over, your attendant escorts you to the resting area, where she will offer you something cool to drink and gently dry your feet. You just feel warm and fuzzy all over.
Parting shot: If we could change one thing
The staff is so warm and friendly that the formal, 'cooler' service at Tuğra seems a bit out of place.
We found rooms in May 2019 for €300 ($349).
(Photos courtesy of Çırağan Palace Kempinski unless otherwise indicated)
Janice stayed as a guest of the hotel. The hotel did not have editorial approval. Flights to Istanbul were courtesy of Turkish Airlines.