We like food. We think we know all about the next big thing coming down the culinary and cocktail line. Oat milk? Done it. Tahini desserts? Yawn.
But Kimpton Hotels & Restaurants—which specializes in being of-the-moment—has just revealed what it sees as the next big foodie fads. After surveying billions of cutting-edge chefs and bartenders in the US, Europe and Caribbean, Kimpton also used social media research to create its Culinary + Cocktail Trend Forecast. Some of these trends will have to be bitten to be believed.
1) Coffee grounds on toast
If you're tired of avocado toast, no worries. Sixty-six percent of the chefs Kimpton interviewed said that people are starting to slather raw, third wave coffee grounds on their multigrain. Coffee toast will add extra kick to your day. Plus, it really cuts down on your breakfast labors in the morning. Get your java juice and jam all in one shot. It's two food groups in one.
2) Keto pasta
To go with the keto diet movement comes a new way to eat pasta. If you're a fan of butter and a fan of pasta, you'll love butter pasta. That's right. It's pasta made of real butter and, apparently, goes great with Bolognese sauce. This hot butter noodle trend may just leave you asking, "Is butter a carb?"
3) Succulent, succulent steaks
Could cauliflower steak be on the way out? Could the world be ready for another succulent steak that's not meat-based? The answer is yes. And we're talking actual succulents, as in the plant type. They make delectable, juicy—or shall we say succulent—steaks fit for the main course.
4) Edible plates and cutlery
If that last bite of your butter pasta just wasn't quite enough to fill you up, the good news is that there's always your cutlery to chew on. The next phase of sustainable food sees the creation of zero-waste dinners, where the dishes and even the silverware are edible. If you're too full for one more bite, these utensils are also biodegradable since they are often made with wheat bran. Although, considering you just ate a whole lot of butter, you might want that fiber. Just sayin'.
5) Sporks make a comeback
Not just the butt of jokes—we're looking at you, Brian Regan—sporks are making an appearance at a restaurant near you. They reduce labor costs for the restaurateur and are more environmentally-sound. And there is nothing quite as romantic as a waiter offering you a second spork so you can share a dessert at a fancy restaurant.
6) Houseplants you can eat
The jungalow décor trend is hot right now—as in tropical. Flower-powered patterns, textures, rattan and jungle accents figure prominently in colorful, creative spaces. In this modernized Tiki style, there are also plenty of plants. If you include ones like the Fiddle Leaf Fig, Spider plant and Bromeliad, it means that you can take the trend from your house to your mouth. It's the next big thing in urban gardening.
7) Savory shaved ice
Move over passionfruit and blue raspberry. Hello, Buffalo blue cheese. As tastes have been turning from sweet to savory over the past few years, these summertime shaves are following suit. Sixty-eight percent of the chefs interviewed by Kimpton are planning to infuse this frozen treat with flavors like Green Goddess and truffle salumi.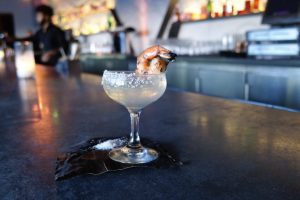 8) Salt water
Mmmm. You can really taste the brine. Bottled still and sparkling waters are on the downslide, but bottled salt water is up and coming. Sourced directly from the Pacific Ocean, this electrolyte-rich eau is particularly popular in drought-prone California, where it is being used in cocktails.
9) Putting the bathtub back in bathtub gin
Gin is reaching its second zenith right now. It all started when specialty tonics and tonic syrups hit the shelves. As the gin continues to flow, Kimpton is riding the wave by offering its own DIY gin-making kits for use in its in-room bathtubs. (We do trust they'll be cleaned first, though.)
10) Municipal grass takes the mainstage
Whether its gin or some other spirit, botanical-infused drinks are big. Imaginative craft cocktail makers are adding everything from pine-like sticks of rosemary to soapy-tasting lavender and flowery rose petals to their creations. Kimpton's barkeeps are predicting that the next botanical you'll taste will be plain-old grass, picked from a city boulevard. We can see it with hay-smoked food as popular as it is. Consider it the next level of farm-(or street)-to-table cuisine.
11) Micro drinks
As speakeasys go out the door, in walks tony tea parties. We're talking tiny, perfect beverages served in wee doll cups, through partnerships with boutique, small-batch toy shops. Think of it as the cocktail version of an amuse bouche.
And, by the way, April Fools! This Culinary + Cocktail Trend Forecast was released on April 1!
(Photos courtesy of Kimpton Hotels & Restaurants, featured photo credit: Michelle Banovic)