Hotels are getting it. We need coffee. Even the swishiest suite with a Nespresso machine just doesn't cut it some mornings. We want to explore our surroundings. Be social. But not too social. We travelers like to slip into something respectable (dressed up in barely more than our pajamas), quietly make our way down to the lobby, grab a cup and find a quiet spot to start the day. Our second cup may involve paying a barista, but that's another story. Dreamy, sun-soaked Santa Barbara has three hotels in particular that provide all we need for a California-style morning.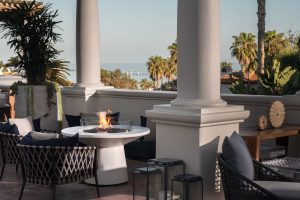 The Bacara Resort has been around since 2000, but became a Ritz-Carlton property in 2017. That partnership is considered a seal of approval in the hotel world and certainly to us. Set between two miles of white sandy beach on the Pacific Ocean and the Santa Ynez mountains, this resort embodies that timeless, classic Spanish design that the Santa Barbara region is known for. Spanning 78 acres, the 358-room property is impressive and spacious to say the least. Lobby coffee is served at the 'O' bar, adjacent to the Ocean Terrace. Settle into one of the plush outdoor living room chairs or sofas next to a fire table and take in gorgeous views of the resort's lush gardens and ocean while Latin music swirls around your still-sleepy head.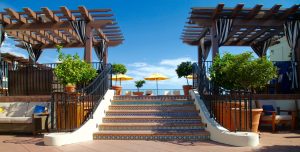 Right in the heart of downtown Santa Barbara, this stylish gem was majorly renovated in 2012 when Kimpton purchased it. Originally built as the historic Hotel Carrillo in 1934, the 97-room property has charming guest rooms and suites with pops of color and texture, plus a mix of antique and modern furniture that just works. The Canary has a seriously glam rooftop pool and terrace and that's exactly where you need to be in the morning light with coffee in hand—fabulous Trina Turk coverup and blackout movie star shades optional. Take in a 360-degree view from an outdoor sofa surrounded by Canary Island influences like hand-painted tiles, wrought iron fixtures and bright textures. A dip in the pool wouldn't be out of the question if the mood hits. Once you're feeling alive and caffeinated again, you're minutes away on foot or bike to the beach and, of course, the Funk Zone for some of the best shops and restaurants the central core has to offer.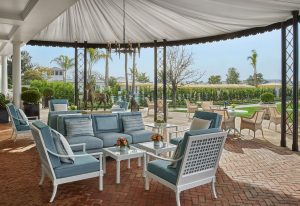 The Montecito community is still under the Santa Barbara umbrella, but at the opposite end of the southern California coast from where The Ritz Carlton Bacara is located. On a pristine two-mile beach, known as the American Riviera, lies the brand new Rosewood Miramar Beach with ultra-luxe accommodations designed like a private residence sprawling over 16 acres with 161 guestrooms. Owner/real estate mogul Rick Caruso is known for his crystal-ball visions when it comes to what works in luxury apartment buildings and retail (LA's The Grove, for example) and developed the Miramar to feel like a spacious family residence. Airy white bungalows link along the beach and stretch across the great lawn to a garden setting. No Santa Barbara Mission-style or clay tiles here. The resort's design is as sophisticated and country club-like as you can imagine. Lobby coffee perched in a palette of pale blue and creamy white decor on the Manor House veranda? Yes, please.
Want more California in your life? Check out these wine country hotels!