Set on 400 acres, the Buenaventura Golf & Beach Resort is a sprawling property with 114 rooms and suites plus four villas, surrounded by tropical gardens and lagoons, situated within a Nicklaus-designed golf course and beach community.
This family-friendly resort, part of the Marriott Autograph Collection, is modern and luxurious, with dark wood, bright open spaces and classic Panamanian touches like the handwoven Chunga baskets and handcrafted pillows in the lobby. The Buenaventura is built around a massive 100-year-old Corotú tree in the main courtyard, with hundreds more of this impressive tree found around the property's golf course.
Street cred: It's all about location
This Pacific coast resort, located about 90 miles from the Tocumen International airport in Panama City, can be reached in about two hours by car. Thanks to direct flights from major cities, it is surprisingly accessible.
Panama has been getting top rankings on best of lists as the new "it" destination. One of the safest countries in Central America, Panama offers much to allure foreign visitors—from its charming historic district, Casco Viejo, in its capital city to its remote islands, Indigenous communities, fabulous beaches, affordable luxury resorts and impressive eco-lodges.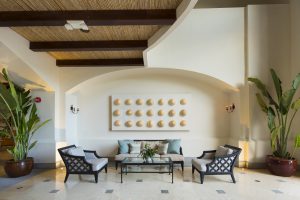 Who hangs here: Is this hotel for you?
This resort is a great fit for multigenerational families (including small dogs), couples, girlfriend getaways and solo travelers looking for luxury in a beachfront property where, even at capacity, you still won't feel like you've been squeezed in with other guests. In fact, you may find yourself the only one on the entire beach, particularly if you visit mid-week.
Most guests come from Canada and the United States and from Europe, particularly Spain because of direct flights from Madrid.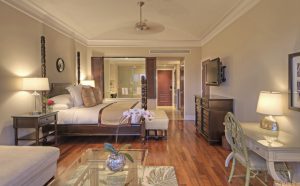 The straight goods: What's in the room?
Spanish colonial-style rooms are bright and airy with dark wood floors in the bedrooms and marble in the hallway and bathroom. Rooms start at 527 square feet, with a king-sized, four-poster bed or two double beds. Suites are twice the size of standard rooms and have Jacuzzi bathtubs, walk-in closets in the bathrooms and the option of connecting rooms for other family members. Wooden shutters separate the spacious bathroom from the bedroom. When they're open, you can lie in the tub and enjoy the bright light flooding in from floor-to-ceiling sliding glass doors that open on to a private balcony or terrace with view of the garden or pool.
If you're with the family or a group, rent one of the four four-bedroom, two-story villas with 4.5 bathrooms. These villas face onto a manmade lake and each have their own infinity pool, indoor and outdoor shower, BBQ and full kitchen. A buffet breakfast is included for up to eight people.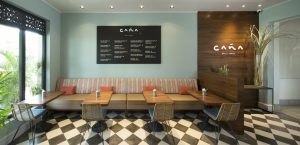 Good eats: Cocktail and cuisine
With 10 bars and restaurants on property, you have lots of choice. All are à la carte, except for the Criollo Restaurant's traditional Panamanian buffet breakfast. Other choices include fresh seafood and prime cuts at Asa'o & Pesca'o, paella al fresco at El Faro Beach Club, plus sushi and teppanyaki at Tai Kai Sushi & Martini.
You can also sample handcrafted cocktails created by master mixologist Miguel Diaz at the Palapa bar. Diaz infuses his drinks with what he calls "love and passion" and some clever twists, like taking traditional Panamanian ingredients—pineapple infused with Japanese rice beer—and adds Hendricks gin, a foam on top made from seaweed and then edamame to finish. In another, he makes a delicious artisanal chocolate cocktail served in a roasted cocoa shell with ingredients like Panamanian rum, passion fruit and yogurt, and garnished with a mint leaf.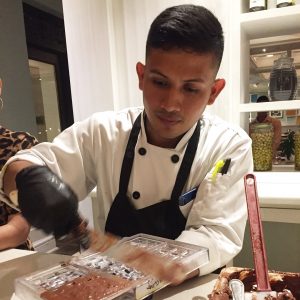 One of my favorite gastronomic experiences was at the Cacao Experimental Bar, where we learned about chocolate making and made chocolate bars as part of a workshop. The resort plans to have five acres on property dedicated to growing cacao, which will be part of the experience.
And if you are a caffeine addict, you will appreciate the delicious locally grown Panamanian coffee, including the Geisha coffee, known as the world's most expensive java.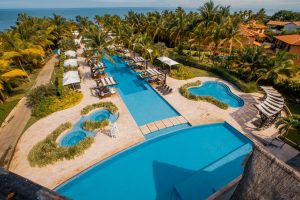 Bragging rights: What else has it got?
On your five-minute walk to the beach, you will pass a whopping 12 pools before arriving at a beautiful stretch of white sand beach where you may well find yourself alone—minus the lifeguard on duty. There is also a wildlife center onsite, a swanky new sports club with everything from squash and tennis courts to soccer fields, a pro shop, a large pool and fitness center—available for $25 per day. You can also add on sessions with a personal trainer, yoga classes, or  private golf and tennis lessons. They can make it happen.
The resort also offers a half- and full-day kids' club at no extra cost. They even have a museum, which features handicrafts from Indigenous tribes, such as woven baskets, palm animals and ceremonial headdresses. Free standup paddleboarding and kayaking are available to all guests. The resort has 24-hour room service and turndown service at night.  And their Corotú spa includes separate steam room, sauna and Jacuzzi for men and women, and excellent massage, facial and body treatments.
You can also spend your time enjoying curated excursions and activities—from birding at Valle de Anton to rainforest canopy tours, fishing, snorkeling off-site, as well as horse riding on the beach, art and cooking classes and cocktail demonstrations on the property.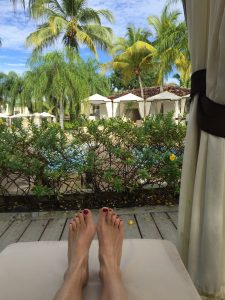 A few of our favorite things: What stood out?
I could have spent all morning sitting out on my balcony with a delicious strong cup of Panamanian coffee and a book. I also loved jogging on the beach in the stillness of early morning before the heat of the day settled in.
Parting shot: If we could change one thing
The amazing amount of traffic around Panama City can make ground travel slow going. Plan to arrive before 2:30 p.m. or avoid the roads altogether. Another option is booking a private boat, which will take you to the resort's newly open marina in just 45 minutes.
We found rooms in January for US $212.
For other Panamanian hotels, take a peek over here.
Diana was a guest of the hotel during her stay. The hotel had no editorial input for this review.
(Photos courtesy of Buenaventura Golf & Beach Resort unless otherwise indicated)