As Canada's second Ritz-Carlton property, the Toronto location opened with high expectations in 2011. It made a splash right out of the gate, thanks to its elevated culinary offerings, elegant design, award-winning spa, impressive service and spacious rooms—some of the largest of any luxury hotel in the Toronto area. Recent renovations gave guests more of what they've grown to love about the Ritz—glamour, unforgettable experiences and the feeling that everything you want out of a hotel is right there waiting for you.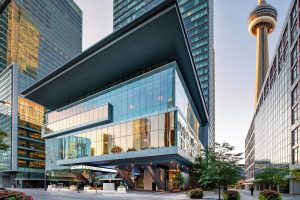 Street Cred: It's All About Location
The Ritz-Carlton Toronto's downtown location puts guests close to the action whether they are in town for live theater in the Entertainment District, music, baseball games or shopping. All are within walking distance of the hotel. Views are a mixed bag. You can gaze over the urban skyline, watch the planes come in at the Toronto Island Airport in the distance, or catch the boats sailing on Lake Ontario. Though it's in the heart of the city, you feel like you're in a peaceful oasis away from it all.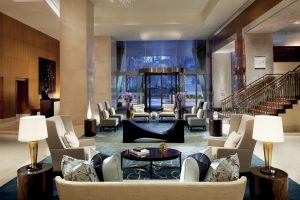 Who hangs there? Is this the hotel for you?
From NHL hockey teams and celebrities, couples on a romantic getaway to business people carrying laptop bags, the Ritz welcomes a sophisticated clientele. A few families were spotted on a recent visit. There's plenty to do nearby for those traveling with kids, but you won't find pancakes shaped like Mickey Mouse in its fine dining restaurants, though they do offer kiddy fare. The hotel's family packages are attractive with fun activities like making liquid nitrogen ice cream sundaes, an in-room tent setup or tickets to local attractions like Ripley's Aquarium of Canada. Meanwhile, couples love the intimate spaces throughout the hotel whether they are looking for pre-dinner cocktails, romantic dinners or spa services for two.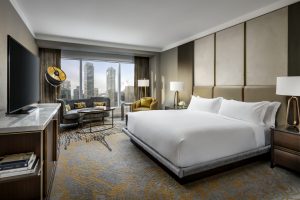 The Straight Goods: What's in the room?
The rooms from 2011 were lovely and inviting, but the newly redesigned ones kick it up a few notches by tapping into the glitz and glamour of a city that's often called Hollywood North because of its popularity as a filming location and its international reputation built by the Toronto International Film Festival. A sexy palette of bronze, gold, deep blue, gray and black have given the 263 guest rooms and 63 suites a contemporary, sophisticated fresh look.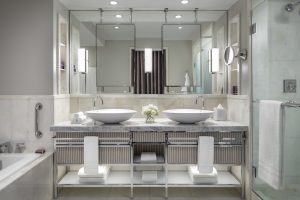 High marks go to the bathrooms, featuring Portuguese marble walls, Asprey Purple Water toiletries with spice and citrus notes, heated floors, dual vanities so you can spread out your stuff, soaker tubs and separate showers with rain showerheads and handheld shower wands. The king-sized beds are as luxurious as you might expect with luscious, 400 thread count Frette linens. Those who make mid-sleep trips to the bathroom will appreciate the motion-activated floor-level lighting that gently illuminates a path to the loo. Extras like umbrellas, in-room laptop safes, terry bathrobes, Nespresso machines (plus real milk and cream in the fridge), full-size ironing board, turndown service and slippers add to the cozy-up vibe.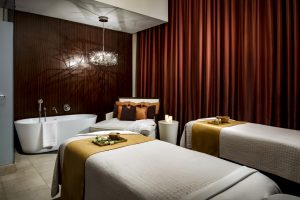 Bragging Rights: What else has it got?
The Spa My Blend by Clarins is a popular place to go, chill and boost your health. Its personalized skin analysis services help guide you to the perfect facial based on what your skin really needs. With 16 treatment rooms, a large lounge for pre- and post-relaxing and an aromatherapy-infused vitality pool, you'll want to carve out enough time to enjoy it all at a leisurely pace. The prices for the spa treatments are definitely reflective of its five-star rating, but the Ritz is about indulgence so go ahead and enjoy guilt-free. Note that rates are higher on weekends and holidays.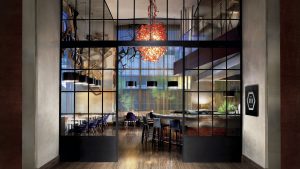 Good Eats: Cocktails and cuisine
TOCA is the main restaurant. It has an Italian spin and the only hotel-based cheese cave in Canada. On weekend mornings, it's packed with locals and hotel guests for an epic buffet brunch with bottomless mimosas, bellinis and bloody Caesars, handmade pasta, salads and sustainable seafood bar, cheese, desserts, ricotta pancakes, prime rib, flatbreads and antipasti—all expertly prepared under the guidance of new executive chef Paul Shewchuk, who uses many ingredients from southwest Ontario. In the evening, it's a quieter affair with dinners focused on updated Italian classic dishes. To get the best idea of the restaurant's style, try the tasting menu, which builds course after course into something truly special. The house-made tomato sauce is so divine that you'll feel compelled to mop up every bit of it with a chunk of bread. To finish your meal, a visit to the cheese cave is a must. Choose selections from Canada and Europe with help from an in-house cheese expert.
The DEQ Terrace and Lounge has a relaxed aura, an ideal spot for sipping cocktails and nibbling on shareable dishes like truffle fries, chickpea fritters and chicken wings. The CN Tower and Simcoe Park serve as eye-catching backdrops. Tea lovers gather here (and also at the Ritz Bar off the lobby) for a classic afternoon tea service featuring customized blends from Sloane Tea.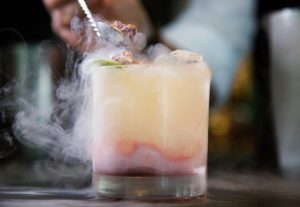 The focus of the aforementioned Ritz Bar has changed a few times since the hotel's opening, searching for the right groove. Liquid nitrogen cocktail creations are still the main reason to go and hang out, especially for the downtown post-work crowd. The curious and the indulgent like the opulence of Black Ivory coffee—the world's rarest with only 150 kg (330 lbs) produced in a year. Coffee cherries are fermented in the bellies of Thai elephants and then, um, eliminated, collected and processed. It's worth trying just for the novelty and the coffee's uniqueness. The price tag is CAD $50 (US $) and there's enough coffee for two or three guests. Drink it black to get the truest sense of its rich flavor.

A Few of our Favorite things: What stood out?
Hands down, the Ritz-Carlton Club Lounge is a real winner all around. Access is available to those booking Club Level rooms. The lounge was also updated and glammed up like the guest rooms, with quiet nooks where you can read and answer email with a cocktail or glass of wine in hand, chat with friends, have breakfast, a light lunch, pre-dinner appetizers and late-night desserts or snacks. Its staff is some of the best we've ever experienced—attentive, friendly and warm, always read to accommodate you in any way they can to make your stay even more enjoyable.
We signed up for the complimentary Heart of the House tour. It takes guests behind the scenes to see what goes into maintaining Ritz standards, including a look at the various kitchens that serve restaurant guests, wedding and meeting attendees. It's amazing to see how many people it takes to make things hum along smoothly. In the catering kitchen, we sampled freshly made macarons.
Parting shot: If we could change one thing?
For those who mix work with pleasure, the lack of a desk in some guest rooms might be problematic. You'll have to take your laptop and get down to business elsewhere if you need a properly ergonomic desk and chair. Your best bet is to request a room equipped with a desk, should you need one. The hotel is happy to accommodate the request.
(Photos courtesy of The Ritz-Carlton Toronto)
Michele was a guest of the hotel during her stay. The hotel had no editorial input for this review.