The Barceló Maya Riviera resort is sleek, modern and luxurious. The sweeping, open-air marble lobby with light wood accents, royal blue couches and a large original painting by Mexican artist, Julie Sasson, leads straight out into the pool area overlooking the white sandy Caribbean beach.
This adults-only, all-suites luxury resort has 850 rooms, 500 of which overlook the sea. The Barceló Maya Arena, a convention center with an 8,000-person capacity and the largest on the Mayan Riviera, is attached to the resort.
Open in December of 2019, and the latest in the Barceló Maya Grand Resort complex, Barceló Maya Riviera has a "stay in one hotel and enjoy six" concept which means you have full access to the five other resorts in the vicinity.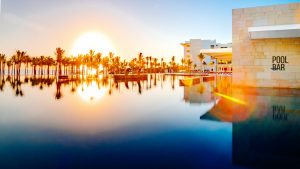 STREET CRED: IT'S ALL ABOUT LOCATION
The Barceló Maya Riviera is located on its white sandy beach (over a mile long) on the Mexican Caribbean, just one hour south of Cancun which is a hub for international flights from many major cities. This central location in the middle of the Mayan Riviera makes the resort within easy reach of activities like catamaran tours, snorkelling and cenote excursions, eco-park and ATV tours exploring the jungle. Playa del Carmen is only 20 minutes away, the perfect place to get the Mexican city vibe and for some shopping. A must-see are the important Mayan ruins of Tulum and Chichen-Itza, both an easy day-trip away.
WHO HANGS HERE: IS THIS HOTEL FOR YOU?
Don't mistake "adults only" for couples only. Guests are a good cross-section of thirtysomethings and up: couples and friends, including LGBTQ groups. As a solo traveler, I felt totally comfortable. The majority of guests are from the United States and Canada, including many French Canadians. Most of the European guests are Spanish.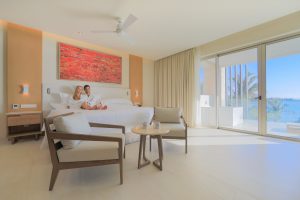 THE STRAIGHT GOODS: WHAT'S IN THE ROOM
Like the lobby and the rest of the hotel, rooms are sleek and modern with white walls, light wood and marble accents, plus a modern couch and coffee table. The suites are spacious, ranging from 495 to 990 square feet. The two double beds can be made into one bigger-than-California-king bed, or kept separate. Ground level rooms have their own infinity pool and every room has a Jacuzzi tub.
There's plenty of closet space and the spacious bathroom has a separate room for the toilet and a large shower area with a to-die-for massive rain shower. The shower wall is opaque glass, separating the bathroom from the rest of the room, allowing for natural light. There's a large, bright, colorful print hanging in every room.
Room rates are all-inclusive, so meals and drinks are included. For a few extra dollars a day, you can choose the premium-level option to get some extra perks like personalized check-in and check-out, exclusive concierge service and rooms with the best views. With premium-level, you will also have access to the hydrotherapy circuit at the spa once a day—a worthwhile benefit.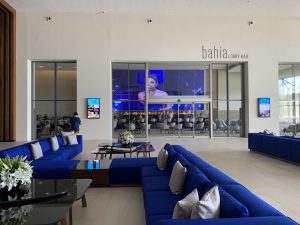 GOOD EATS: COCKTAILS AND CUISINE
The Barceló Maya Riviera has four à la carte restaurants requiring reservations, serving French, Japanese, Italian, and Mexican cuisine. The Bahia Bar in the lobby serves alcohol between 11 am and 4 am, but stays open 24 hours for snacks like paninis and popcorn, coffee and soft drinks. Room service is available 24 hours.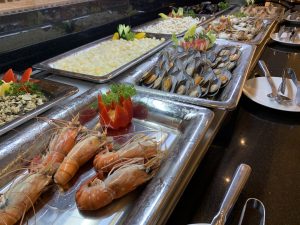 The Terraza Miramar buffet restaurant features international cuisine and has every kind of station imaginable. For example, at lunch, there's a sushi bar, ceviche station, vegan station, cooked-to-order steak and fish, as well as made-to-order pasta and stir-fry stations. It also has ice cream machines for a tasty dessert treat.
The resort has two swim-up pool bars so you don't have to go far to sip a mojito or margarita.
BRAGGING RIGHTS: WHAT ELSE HAS IT GOT?
When you stay at the Barceló Maya Riviera, you also have access to the five other properties in the complex: Barceló Maya Palace, Barceló Maya Caribe, Barceló Maya Beach, Barceló Maya Colonial and Barceló Maya Tropical. Although the length of the entire resort complex is walkable in under 25 minutes, there are double decker buses that shuttle guests every 15 minutes or so between the hours of 8 am and 2 am between resorts. Resort hopping gives you access to a total of 26 à la carte restaurants, five buffets, five poolside grills and 17 bars, plus activities and entertainment at all six hotels.
The Maya Mall is also located in the complex, a leisure and entertainment center ideal for souvenir shopping, plus activities like an 18-hole mini-golf course, bowling alley, and a waterpark with flow-ride surfing.The newly opened Ventura Fly & Ride Park offers fun activities like zip-lining and go-cart racing.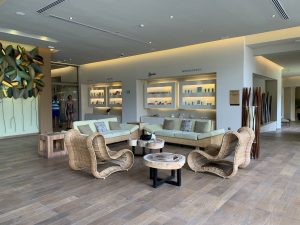 There's a small spa in the Barceló Maya Riviera, but guests can also access the U-Spa Wellness & Fitness Center, a 32,000-square-foot facility with two sauna and steam rooms, a flotation room, hydrotherapy room, Swiss treatment room, a beauty salon and 26 treatment rooms for services like massage, body wraps and facials. It also has a 4,300-square-foot fitness room with treadmills, stationary bikes, weights and yoga rooms.
At the Barceló Maya Riviera, adult-type resort activities are scheduled throughout the day, like exercise classes, beach volleyball, salsa classes and tequila tasting. Most of the action happens by the Music Bar where there's even a DJ in the afternoons. If you prefer quiet time, head to the loungers at the far south end of the beach, where you won't hear the music—just the waves. Nightly entertainment is offered on-resort in the large performance theater.
A FEW OF OUR FAVORITE THINGS: WHAT STOOD OUT?
There were distinct sun and swim hang-out areas, depending on what mood you're in—the infinity pools, where most of the action happens; the quieter beach section for basking by the bright blue Caribbean; or the private infinity pool area outside for when you really didn't feel like seeing anyone.
PARTING SHOT: IF WE COULD CHANGE ON THING
I give the Barceló Maya Riviera an "A" for environmental incentives. They don't use straws, no single-use plastic cups and they have bulk dispensers in the shower. If there was a drinkable water dispenser where I could have filled up my personal water bottle, instead of using bottled water, that grade would have been an A+.
We found rooms in October 2020 for US $275.
(Feature image courtesy of Barceló Maya Riviera)
Kate was a guest of the hotel during her stay. The hotel had no editorial input for this review.