When you walk into Raffles Istanbul the first thing you see is an immense floor-to-ceiling artwork depicting a fantastical vision of one of the city's iconic sites, the Dolmabahçe Palace.
This intriguing piece is both hyper-realistic yet fanciful and sets the scene for what is waiting for you at Raffles Istanbul. When you walk into the hotel, you are not just entering a lobby, but a dream of what Istanbul was, is, and might be. From the hotel's design to its food and service, Raffles Istanbul takes you on a journey through a well-rooted city, where its hospitality stands at the very top of the heap.

Street cred: It's all about location
Istanbul is known as the 'City on the Seven Hills,' inheriting the title from its Byzantium beginnings. It followed the lead of another ancient city built on seven hills, Rome, and in 330, Roman emperor Constantine I transferred the capital of the Roman Empire to the newly named Constantinople and newly designated New Rome.
Raffles Istanbul sits on one such hill in the Beşiktaş district, offering a panoramic view over the city and the Bosphorus Strait—the waterway separating the European side of Istanbul from Asia Minor (also known as Anatolia).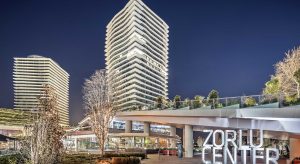 The hotel is attached to the modern Zorlu Center, a high-end, modern-day version of a Turkish bazaar. Part inside and part outside, the center is filled with big brand-name retailers like Prada and Dior as well as popular European shops like Camper. You'll also find some great local stores to slake your thirst for travel treasures. Check out Anatoli if you can't get enough traditional or contemporary Turkish coffee cups or other décor items. And if you're craving KFC, you'll find that here, too, although there are plenty of other options in the dining department. The center also has a performance venue.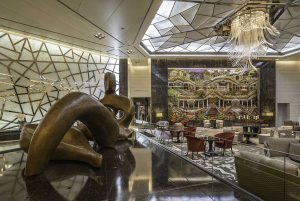 Who hangs here: Is this hotel for you?
The hotel tends to host well-to-do types, whether it be those traveling for business, pleasure or bleisure. I saw singles and couples with kids and without.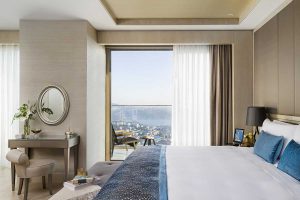 The straight goods: What's in the room?
The hotel has a total of 185 rooms and suites, all designed in a contemporary style. Clean lines, cream-coloured walls and furnishings with gray and sea-blue accents make the rooms feel posh but not pompous, understated rather than showy.
I was lucky enough to stay in one of the hotel's suites, number 2602, a gorgeous, gargantuan place that I could easily make my 'work from hotel' spot for as long as it took to write that one great novel, so we're talking years.
Upon entering, you face the entrance to the bedroom, water closet, and main bath and a hall to the right leads directly to the kitchen. If you turn left when reaching the kitchen, you enter the dining room/living room which includes a designated office space.
The bedroom has a comfy king bed with large night tables with drawers and panels by each side of the bed to set your mood lighting or close the drapes. There is also a bed bench good for keeping a suitcase on the go, a small desk and chair to write your nightly notes, a flat-screen TV and enough closet space to stay for a month or more. On our first night in the hotel, a butler left us two Bade Natural aromatherapy sleeping kits with lavender-scented eye masks, essential oil face wipes, roll-on serum and body/pillow mist on our night tables. Absolutely divine!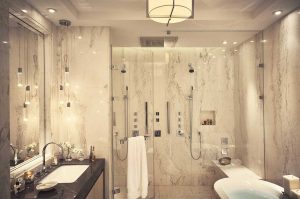 Off the bedroom is the main bath, entered through a sliding door. There are double sinks set into dark marble, with complementary white marble walls. A large luxurious walk-in shower leads directly to a white marble tub. Toiletries are by Sicily-based Ortigia in the Ambra Nera scent—a rich, warm, woody fragrance. The privy is found behind a closed door.
The living/dining area is done up in pale greys, creams and light woods. The space includes a dining table and chairs for six, a sofa and chair with appropriate tables to place an espresso (or 12) and floor-to-ceiling bookshelves that also hold a flatscreen TV.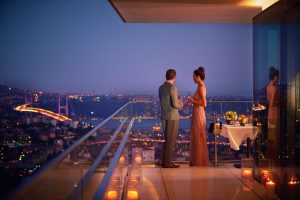 One of the best features of the suite is a huge wrap-around balcony. Enter it from a glass door in the living room and go all the way around to the kitchen side to see stunning 180-degree views of the city and the strait.
The kitchen is a stunner in modern Euro design: light wood and shiny white cupboards with top-end Gaggenau appliances kitted out with whatever you might need to make a meal or something light to nosh on. The Nespresso machine is also found here, and the hotel heeded my request for fresh milk to be left in the fridge.
There is also additional closet space throughout the suite and a Miele washer and dryer if you need to scrub your duds.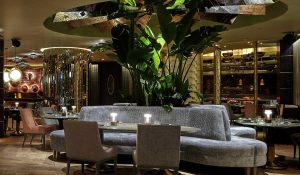 Good eats: Cocktails and cuisine
Raffles Istanbul's showstopper restaurant is Isokyo, headed by culinary director, Clinton Cooper. (Stay tuned for our chef interview coming soon.)
It is a beautifully designed restaurant filled with verdant greens, mirrored columns and décor resembling the pattern of bamboo. Glamourous and contemporary, it serves Asian-style cuisine with a Turkish twist.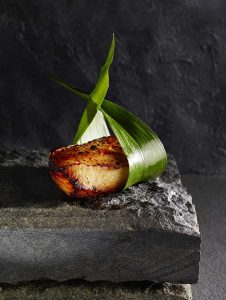 Chef Cooper serves a 10-course tasting menu that is a must if you want to try as many of the restaurant's specialties as possible. My favorites included a crunchy, salty tempura prawn taco with pickled cabbage and soy aioli; the umami-rich Korean fried organic chicken with fermented chili paste; and the savory and sweet lobster and black cod dumplings. This was reinterpreted high-end Asian street food at its best before moving on to the main event, tender slow-cooked hoisin lamb ribs, tempura fries and onion pickle.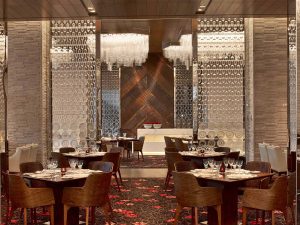 Rocca Restaurant isn't too shabby either, serving a variety of Turkish delights and international comfort cuisine. This translates to dishes like the prawn manti covered with yogurt and spicy tomato sauce and grilled lamb with balsamic glazed baby potatoes and grilled asparagus, or the homier parmesan truffle fries with aioli and the Rocca burger topped with tomato relish, sweet pickle and gruyere cheese.
Rocca is also the place to head for the most important meal of the day, breakfast. Between the extensive buffet and made-to-order dishes, there is almost nothing you won't find.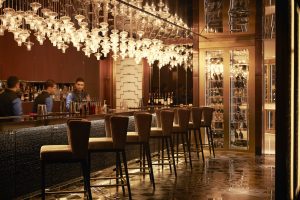 There are three bars on site: the Lavinia Lounge in the lobby of the hotel, with that impressive Dream of Istanbul artwork that serves to frame the grand space; the intimate Writer's Bar; and the Raffles classic, the Long Bar. I spent many an early evening having an espresso or glass of wine in Lavinia Lounge while peoplewatching and it was at the Long Bar that I had my favorite cocktail of my stay: the Bosphorus Sling, made with Sipsmith Raffles 1915 gin, cherry liquor and homemade hibiscus grenadine. If you prefer to stick with the original, the Singapore Sling is delicious, too.

Bragging rights: What else has it got?
The hotel has a full spa, a rooftop pool and bar. It also serves a decadent afternoon tea in Lavinia Lounge.
One of the unique things about staying at Raffles Istanbul is that every room, every guest has access to the butler service team. Not a big deal if nothing goes wrong or you have all the time in the world, but I have used a butler in the past to book rail tickets when I couldn't get them online and to find a particular souvenir I wanted but didn't have time to go out and get. In this case, my travel partner had twisted his ankle while climbing cobblestone streets and, when we got back to our room, we found an ice pack waiting that we had requested along with a Raffles "get well soon" teddy bear. We also received a follow-up call to see how he was doing and if we needed anything else. It really is the little things.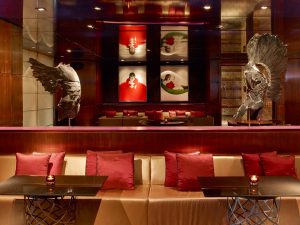 A few of our favorite things: What stood out?
Many hotels speak about their art collection and promote it as something to see. Raffles Istanbul is no different. What does make it different, however, is that Raffles Istanbul's art collection is outstanding. It is not only the best contemporary collection I've seen in a hotel, but it reflects a modern Istanbul that recognizes its traditions but keeps moving forward. If you are an art lover or just a dilettante, go on a walkabout—even the mirrored tiles by the elevators are gorgeous.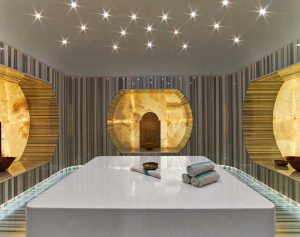 I'm a sucker for a good hamam and the modern Turkish hamam at the spa is a delight. If you haven't experienced a hamam before, do not hesitate. Go be scrubbed, washed, oiled, massaged and coddled. There's nothing like it.
Finally, the staff at Raffles Istanbul is excellent. From remembering my name at a restaurant and recalling the wine I preferred, to a round of quiet hellos and welcomes when walking through the hotel, the Raffles Istanbul team is exceptional, a true mark of luxury.
Parting shot: If we could change one thing
Not meaning to sound like a broken record, but more plugs bedside, please. To the hotel's credit, it did have an easy-to-reach socket that I could use to plug in my handy-dandy, multi-socket/USB power bar I finally purchased because of this very issue. I'm not getting older, I'm getting wiser.
Rates in April start at €450.
Janice stayed as a guest of the hotel. The hotel did not have editorial approval.