Ah, 2023. A new year begets new hotels and, this year, our hotel friends have been very busy building them. According to Forbes, 2,658 new hotel openings worldwide with 416,640 rooms are slated for the year. Here are just some of the ones we are most excited about.
North America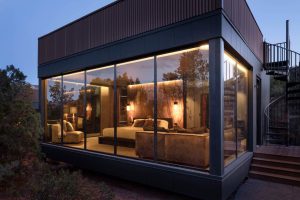 We wrote about this lovely property back in our most anticipated hotel openings of 2020. This time it's for reals. The 40 sleek and contemporary cube-shaped guest 'atriums' at Ambiente are elevated above the ground on steel piers. Rust-colored metal and floor-to-ceiling bronze-tinted windows reflect Sedona's stunning red landscape. This sustainable, eco-conscious hotel has been developed and is managed by Two Sister Bosses, a local family-owned company, offering luxe lodging in the desert.
Status: Now open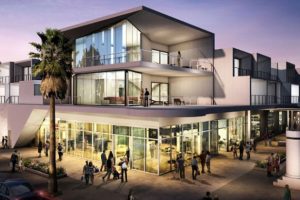 Everyone should have hip hangout in Palm Springs and Thompson Palm Springs is sure to be a preferred pad of choice. Located in the Design District surrounded by Rat Pack-era architecture, its mid-century-modern style fits right in with the neighborhood. Set out like a resort with guestroom bungalows and out buildings, the hotel will offer 150 rooms and 17 suites with private pools, a signature Mediterranean restaurant, coffee shop, ice cream parlor, spa and two large outdoor pools overlooking the San Jacinto mountains.
Status: Expected opening coyly expressed as 'coming soon'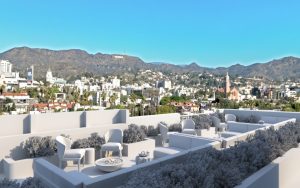 We don't normally get too excited by long-stay hotels, but Level Hotels really do reach a new level of luxury over the standard mini kitchen and laundry facilities of chain properties focused on extended stays. Level currently has three other properties in LA and the Hollywood location promises to be equally as chic. Choose between a studio, one-bedroom or two-bedroom suite ranging in size from 504 to 1,018 sq. ft. You'll still find in-suite laundry and kitchen conveniences in each suite, but it's the upscale furnishings that move this property up a level. There is also a rooftop deck and pool, fitness center, sports court and pet run for the pups.
Status: Expected to open this summer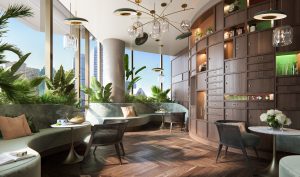 The first Raffles hotel in North America will open its doors this year, bringing a new level of luxe to the historic city of Boston. Located in the prestigious Back Bay neighborhood, the hotel features a stunning three-story sky lobby in a distinctive 35-story building. With 147 guestrooms (and an equal number of residences), the hotel will be a focus in the city for those wanting to enjoy all the good things life has to offer: a ritzy guest's- and resident's-only spa, a sleek and serene indoor pool, the Secret Garden Tea Room, a patisserie, a tasting kitchen and wine lounge plus a showcase restaurant.
Status: Opening mid-2023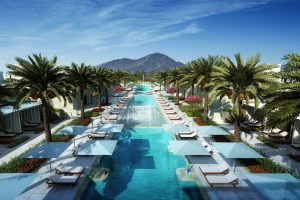 Coolly sitting on 20 acres of landscaped gardens in the shadow of Camelback Mountain, the Ritz-Carlton, Paradise Valley, promises to be a serene escape with beautiful, clean design in shades of sand and sea and plenty of natural wood. There will be 215 rooms, suites and casitas found throughout the resort, linked by shaded pathways, each with an oxygen-enriched in-room air purification system and some with an outdoor shower and/or fireplace. Citrus groves, secret nooks and one of the longest resort pools (at 400 feet) in North America can be found here, along with a spa, a lobby bar specializing in mezcal and tequila and an all-day restaurant focused on ingredients from the hotel's groves and herb garden.
Status: Opening this fall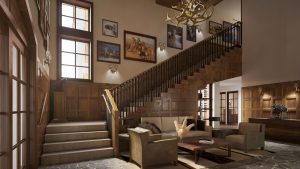 If watching Yellowstone is your jam, this Small Luxury Hotels of the World property is for you. Nestled between the Teton and Gros Ventre mountain ranges, the Rusty Parrot Lodge is meant for those seeking wide-open spaces and western charm. After a devastating fire, this local favorite is rising from the ashes to bring back old favorites like the Wild Sage restaurant, as well as new offerings. You'll find plenty of spaces to set up camp, often by a fireplace, long winding staircases, an expanded restaurant and patio and the Body Sage spa.
Status: Opening this fall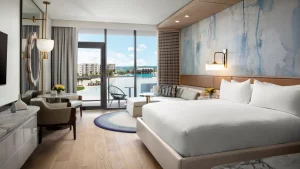 The magic of Conrad Orlando will be that parents will have a welcome respite from the Magic Kingdom located right next door. Located within the expansive Evermore Orlando Resort, this 433-room top tier hotel will be surrounded by a 1,100-acre nature preserve. A lovely eight-acre lagoon cocoons the resort within its watery border and rooms reflect the blue and sandy colors outdoors. A large freeform pool with private cabanas, a 20-acre white sand beach, two Jack Nicklaus-designed golf courses and a spa make up the recreational facilities and five dining and drinking options will take care of your food and drink needs. Once you've rested and relaxed, you can take the complimentary shuttle to Walt Disney World Resort.
Status: It's complicated. Though expected to open this fall, it looks like this might shift to Q1 2024.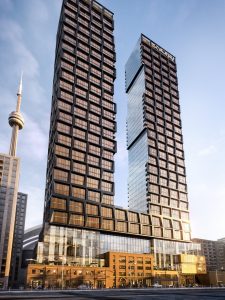 Founded by Chef Nobu Matsuhisa and Robert De Niro in 1994, Nobu Hospitality has been a busy building beaver so far this year, with hotels opening in Rome, San Sebastián, Marrakech, Los Cabos and Atlantic City, as well as Toronto. Nobu Hotel & Residences will rise 45 stories above Toronto's entertainment district. A pair of sleek and shining glass towers will house 658 residences and 36 hotel suites located at the top of the west tower. With Nobu restaurants as notable as its hotels, guests should expect tasty tidbits and tipples that match the hotel's hip and haute surroundings.
Status: Opening this November
Mexico and the Caribbean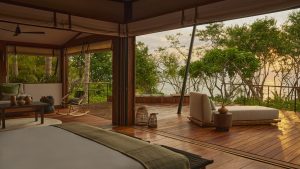 As a hotel lover, I've never been too keen on camping—even glamping won't do. This resort, however, takes the whole 'sleeping in nature' thing to a new level. Naviva, a Four Seasons Resort, consists of 15 wildly luxurious tents, set within 48 acres of forest overlooking the Pacific Ocean. My parent's trailer could never compete with these tents. Imagine a full living room and bedroom, a glass wall that opens to let in the sound of the ocean and the feel of tropical breezes, and a deck that contains a large plunge pool, lounge area and some with a firepit. This is informal luxury at its best—a chance to connect with yourself, nature and the culture of the Mexican people.
Status: Now open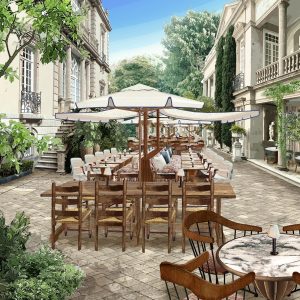 Member-based Soho House is opening its first property in Latin America, Soho House Mexico City. (Although members receive certain perks and benefits, you can stay at a Soho House property as a Friend of Soho.) You'll feel right at home in this restored private residence in Colonia Juárez. Full of locally made furniture and vintage pieces, plus artwork from artists born, based or trained in Mexico, you'll find a French Baroque influence in keeping with the mansion's original architecture. On-site will be three lounges, a restaurant, courtyard where you can also grab a bite in the great outdoors and a pool with pool house.
Status: Opening sometime this year
Europe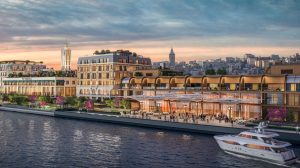 The Peninsula Istanbul stretches over four buildings on the Bosphorus waterfront. Located in the brand new Galataport area of Istanbul—home to the world's first underground cruise terminal—this hotel offers 177 rooms and suites with Turkish design elements like wood and mother-of-pearl inlay and kilim-style carpets, stunning views over water or gardens, a private boat dock, pools, spa and a rooftop restaurant and bar helmed by Fatih Tutak, chef of two Michelin-starred restaurant Turk Fatih Tutak.
Status: Now open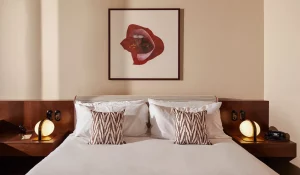 Move over 1960s. The 1970s have arrived. Hoxton Hotels is known for its retro cool design and now they're bringing back brown with The Hoxton, Belgium. With more rounded corners than square, the 1970s aesthetic carries over from the rooms to the rooftop bar and to the restaurant serving the hottest food flavor right now, Peruvian eats. The hotel will also house Hoxton's newest endeavor, Working From, a collection of smart co-working spaces.
Status: Opening May 23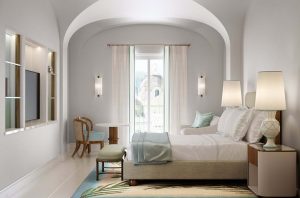 Hotel La Palma (Oetker Collection), Capri, Italy
Light and airy is the name of the game at Hotel La Palma. This will be a complete re-do of the original 1822 property. Fifty rooms and suites with terrace or balcony will make up the boutique property, as will a rooftop restaurant and bar, private beach club, pool and spa. As it was before, expect the hotel to be a celeb hangout, attracting writers, artists and musicians to its luxe but laid-back vibe.
Status: Opening soon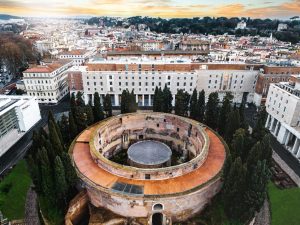 This gem of a hotel will be the jeweler's second property in Italy after opening its hotel in Milan. Located in the Campo Marzio district near the Spanish Steps, the 114-room hotel—mostly suites—will feature a restaurant headed by Michelin-starred chef, Niko Romito, two lounges, a spa, Italy's first Bulgari Dolci chocolatier and patisserie and a library filled with books that will tell you everything you ever wanted to know about jewelry.
Status: Opening this summer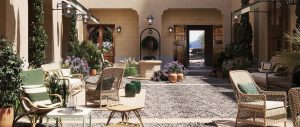 Brought to us by the man who wants to make space travel a real thing, soon you'll be able to stay at Sir Richard Branson's newest out-of-this-world luxury property, Son Bunyola, on Mallorca's northwest coast. Virgin Limited Edition is opening this 26-room hotel (joining three existing villas) on a 1,000-acre estate, including a tower suite found in the original 13th-century tower. Most rooms and suites offer views overlooking vineyards, mountains and the Mediterranean Sea. You'll also find two restaurants, an outdoor pool and spa.
Status: Coming this summer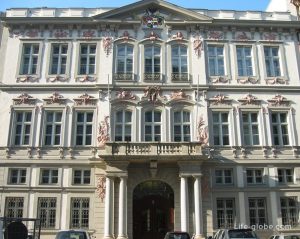 When the stylish Rosewood Munich opens later this year in the city's center, it will mark Rosewood Hotels and Resorts' first foray into Germany. This brand always manages to bring some of the destination into its properties and here we have two historic buildings—the former state bank headquarters and the Palais Neuhaus-Preysing, a fancy early 1700s mansion—combining to create one posh palace-like hotel housing 132 rooms and suites. A lobby lounge, restaurant and bar, indoor pool and spa round out the amenities.
Status: Coming Q4
United Kingdom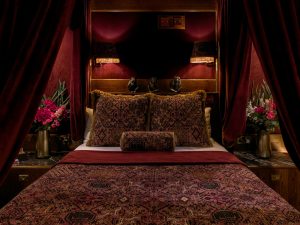 Yes, the name is ostentatious, but if the shoe fits… Everything about this boutique hotel is over the top. From its name to its opulent rooms and amenities, the hotel drips extravagance. The 31 rooms are designed in a maximalist style that include 'cabins' based on the small but luxurious rooms found on the original Orient Express to the larger classic rooms inspired by the palace of Versailles. Victorian-styled suites offer a freestanding nickel-plated bathtub. If this version of the hotel mimics House of Gods, Edinburgh, even the lobby lounge will be papered with Gucci wallpaper.
Status: Expected to open in May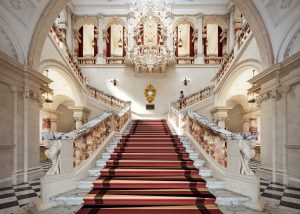 You couldn't find a more auspicious location for a hotel than London's Old War Office. The place vibrates with espionage and secret dealings, from icons Winston Churchill to Ian Fleming. Today, this historic Grade II-listed building is being transformed into 120 rooms and suites on a grand scale by designer Thierry Despont. A calming Guerlain spa, nine super stylish restaurants and three bars as well as an indoor pool round out the Raffles London at The OWO's services, the first London hotel for the brand.
Status: Coming this summer
Australia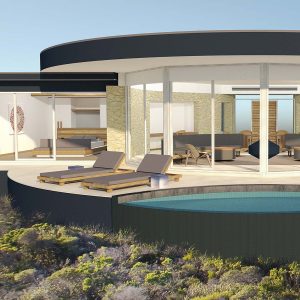 Baillie Lodges flagship property—Southern Ocean Lodge—is being reborn after it was razed by bushfires in 2020. Created by the lodge's original architect, South Australia-based Max Pritchard, the new property will see 25 minimalist guest suites set along the coastline like a string of pearls, to take in expansive ocean and coastal wilderness views with floor-to-ceiling windows. The main lodge will house a great room with hanging feature fireplace, a private dining snug beside the walk-in cellar and sun terrace with pool. There is also a restaurant and spa on-site to take care of every worldly need.
Status: Q4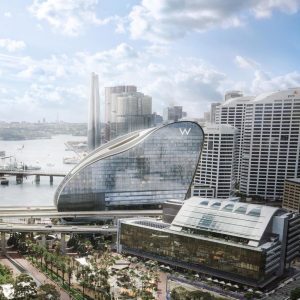 W Sydney, New South Wales, Australia
The W Sydney in Darling Harbour will welcome its first guests in the latter quarter of 2023, bringing a unique take on modern luxury to the city. The new hotel is set on the city's magnificent waterfront with immediate access to the CBD, International Convention Centre and harbour entertainment precinct. The brand's typically sexy design is evident in the all-glass clad swoop of an exterior and nightclub-inspired lobby and inside spaces. Nothing shy about this property, so slink on over to a sofa, settle in and be prepared to see and to be seen.
Status: Opening in Q4
Middle East and Africa
 
Hyatt's Andaz hotels like to go extreme local with its properties ('Andaz' is, after all, a Hindi word meaning 'personal style') and the 348-room Andaz Doha will reflect this ethos. Rooms promise to be the largest in the city and will feature handcrafted wallpaper inspired by local tilework, earthy clay and sand color selections and views that dazzle over the Persian Gulf.  Located in the West Bay area, you are close to some of the best sites in Doha. The hotel's dining options include a signature South African restaurant focused on salt, a Singaporean street food nosherie and an Afro-Cuban lounge serving up cocktail classics.
Status: Coming late summer
Four Seasons Hotel Rabat at Kasr Al Bahr, Morocco, Africa
The Four Seasons Hotel Rabat at Kasr Al Bahr promises to be a cool, green oasis away from the heat of a Moroccan summer. Kasr Al Bahr means 'castle of the sea' and was originally built on a 12-acre piece of land as a sprawling royal summer palace. Now it will open, after perking it up and modernizing it, as a Four Seasons property, perched cliffside in Morocco's capital city. The 204-room hotel features seven restaurants and lounges, a spa including an indoor pool and several outdoor resort-style pools in which to frolic.
Status: Coming sometime this year
Asia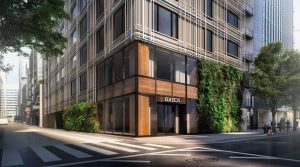 Marriott's takeover of EDITION hotels has done nothing to slow down this brand's sense of style. The Ginza hotel, located just off one of the fanciest streets (Chuo Street) in Tokyo, is EDITION's second property in the city. Look for clean lines and on-trend furnishings throughout the 86-room property, as well as three places to have a meal or a snack, including a rooftop bar.
Status: Opening sometime this year
While this list includes just a few of our favorite hotel openings, there are plenty more that could have been added quite easily. We're looking at you, Maison Delano Paris, Mandarin Oriental Mayfair, Kwetu Nairobi (Curio Collection by Hilton) and oh, so many more. It will be quite a year for new and notable properties!
Featured image: Ritz-Carlton, Paradise Valley, The Palmeraie