The Fairmont Vancouver Airport hotel has earned plenty of bragging rights this year. In March, it was named the #1 airport hotel in North America again and moved up to #3 in the world by Skytrax World Airport Awards. And just a short time earlier, it brought celebrated chef Harris Sakalis on board to lead the team of the Globe@YVR and Jetside Lounge.
Born and raised in Thessaloniki, Greece, Sakalis and his passion for good food started early, growing up in a family of fishers and hunters. Gathering around the dinner table to eat, drink and swap stories with his family taught him about the important role food plays in bringing people together.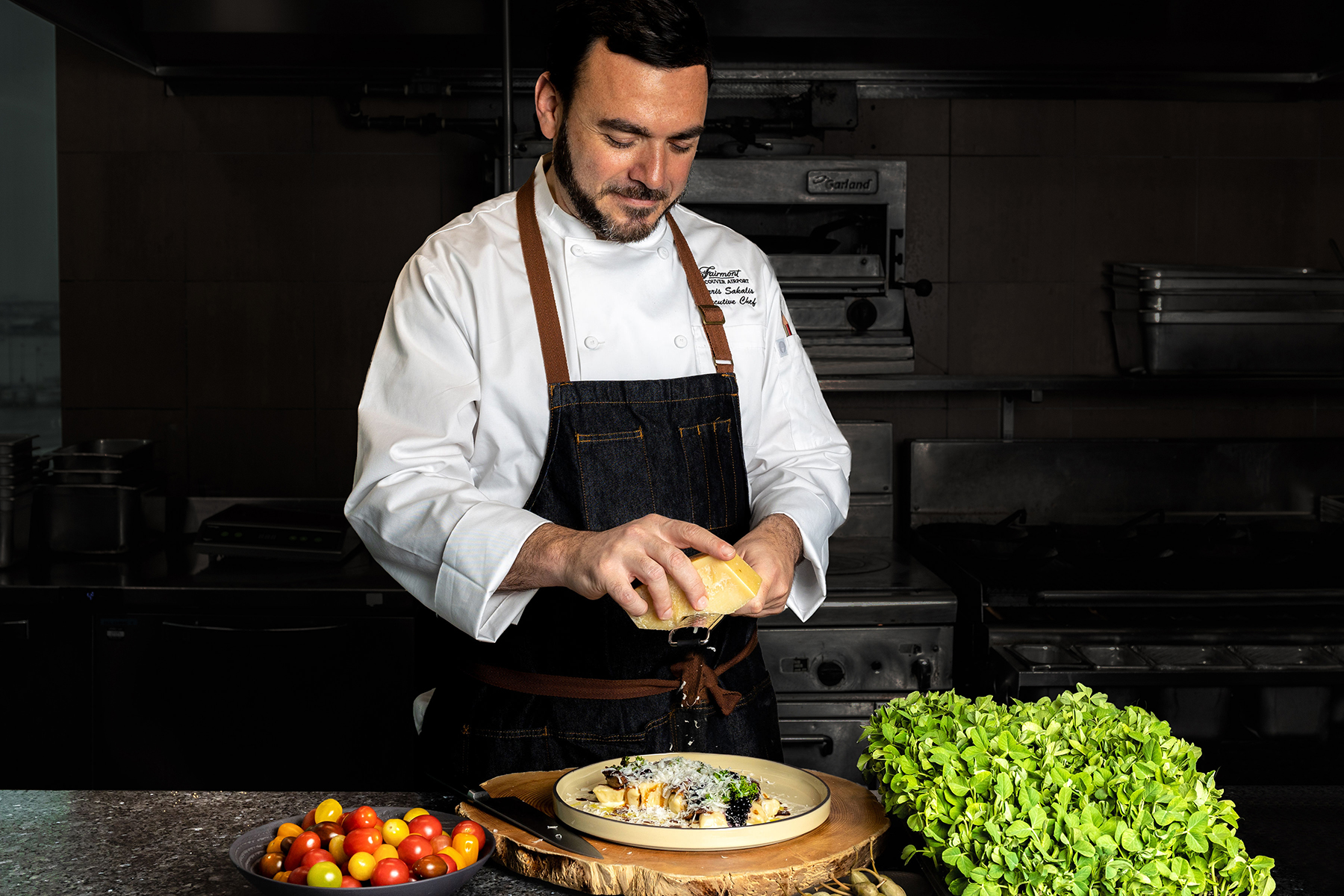 He honed his craft attending the School of Tourism Education in Crete and in top kitchens worldwide, such as Café Boulud in New York and Rosewood Hotels in Abu Dhabi. He joined Fairmont Hotels & Resorts when he took a position at the Fairmont Southampton in Bermuda. In 2016, Canada came calling and he headed to the Fairmont Jasper Park Lodge in the heart of the Canadian Rockies.
Fast forward to 2023. Chef Sakalis is ready to take off and embrace all the opportunities available to him in his new role as executive chef at the Fairmont Vancouver Airport hotel. Though he was busy creating new menus and getting acquainted with the bounty of west coast ingredients, Hotel-Addict.com was able to catch up with him to ask him a few of our most burning questions.
HA In moving from Alberta to B.C., how will your creation of menus for Globe@YVR be influenced?
HS I'm incredibly excited about being on the coast and near the sea again. Having access to such fresh seafood is an incredible privilege as a chef. The local fisherman and suppliers I have met so far are extremely knowledgeable about their product and I am really looking forward to developing those relationships.
HA What local ingredients are you looking forward to working with at Globe and why?
HS With first-of-the-season Pacific halibut having just arrived, I was excited to add that to our spring menu. I'm also looking forward to working with local salmon once that season begins. BC spot prawns are high on my list and I will be first in line as soon as they arrive in nearby Steveston. We've got an abundance of great local farmers, too, and I'm looking forward to highlighting them on our menus. In Alberta, I was fortunate to be exposed to BC products but it's fantastic to be closer to my favorite suppliers.
HA How does cooking for guests at an airport hotel differ from being at a hotel like Fairmont Jasper Park Lodge?
HS Fairmont Vancouver Airport is a smaller operation, which gives me the opportunity to be closer to the product, the team and the experiences of our guests.
HA What current food and health trends are shaping what you offer to diners?
HS We are seeing more requests for vegan options and this is something we are incorporating as we design new menus. For example, the Spring Forrotto on our new dinner menu in Globe@YVR features organic farro, spring garlic, fresh peas, asparagus, edamame beans and a rich cashew cream. It is a vegan dish that was crafted to satisfy every palate and the feedback from all our guests has been wonderfully positive.
HA How do you incorporate your Greek heritage into your cuisine?
HS Greek cooking is grounded in a love of fresh herbs, refreshing lemon and good olive oil. You'll find these influences throughout our menus and are a subtle nod to my roots.
HA You've worked at a few Fairmont properties. What makes the Fairmont approach to dining unique?
HS One of the wonderful things about Fairmont Hotels is that each property is unique to its destination, embracing the local culture, cuisine and even design. This allow us to be inspired by our surroundings and create menus that are both unique and highlight the best of what each location has to offer.
HA Being based in Vancouver now, what local culinary experiences are on your to-do list?
HS The city is renowned for its multicultural cuisine and I'm looking forward to experiencing all the unique cuisine styles in Vancouver and locally here in Richmond.
Photos courtesy of Fairmont Vancouver Airport hotel.