Shhhh, do you hear that? It's the sound of solace and, well, maybe a horse nay or two. Norm and Nan Dove, owners of Echo Valley Ranch and Spa, will be the first to welcome you to their little slice of paradise. A rejuvenating wellness haven tucked into British Columbia's interior (Cariboo/Chilcotin) region, this Canadian Signature Experience is best known for its unique mix of western ranch meets eastern Thai culture. For guests looking to craft their perfect vacation, the ranch features a smattering of activities and excursions from spa and yoga to horseback riding, hiking and more.
Street cred: It's all about location
Sprawled over 160 acres and situated 3,000 feet above sea level, the eco-friendly ranch is surrounded by the natural splendor of four distinct geographic regions: boreal forest, the semi-desert Fraser Canyon, grasslands and treeless mountains.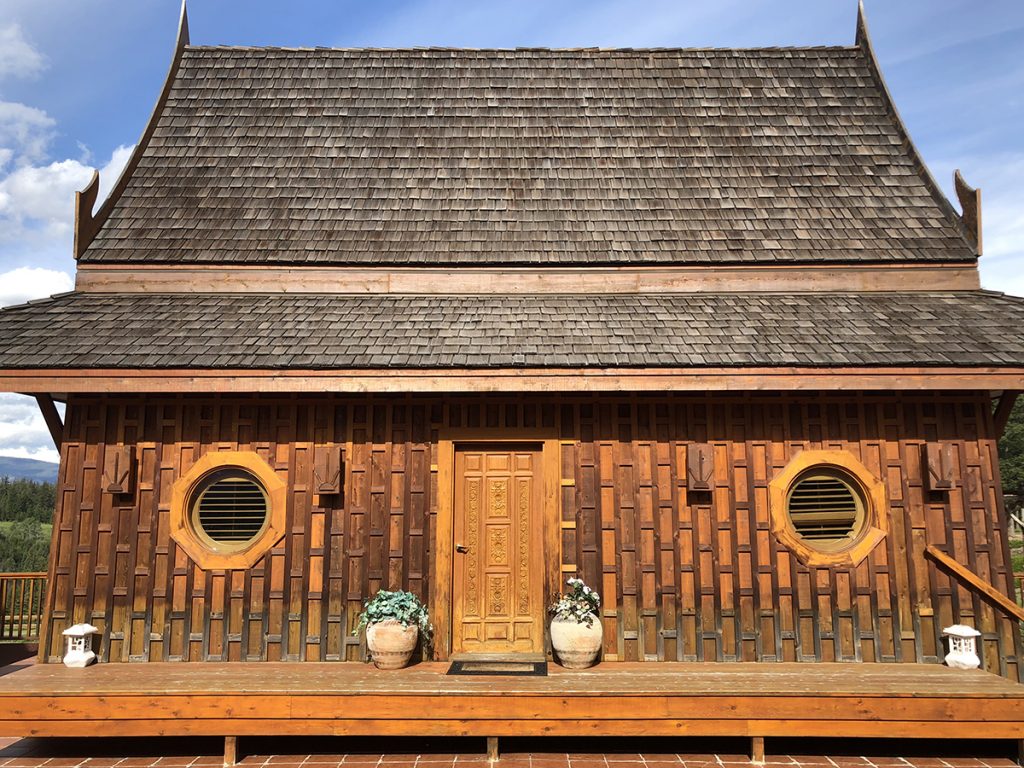 Who hangs here: Is this hotel for you?
Echo Valley Ranch and Spa is hugely appealing for many reasons and is open to anyone and everyone. It's ideal for a girl's getaway, couple's retreat, family vacay or simply those looking to reconnect with nature, or themselves. Disconnecting from the outside world, while taking in grand views and fresh air, are par for the course here. 
The outstanding mix of east meets west is thanks to the beautiful union of backgrounds of owners Norm, who hails from Sussex, and Nan, from Bangkok. Together they've created a warm refuge that caters to comfort by artfully marrying elements that, although very different, result in a unique experience. 
In terms of buildings and spaces, log cabins serving different purposes dot the ranch with one standout exception, the Baan Thai—a building that embodies both eastern and western cultures. Noted Thai architect, Dr. Pinyo Sunwankiri, built this masterful creation drawing inspiration from the surrounding landscape. It features ornate elements from carved doors, tapestries and carvings to the inclusion of Buddhas, elephants and gold elements integrated into its design and décor. 
Once on the ranch, you cannot help but notice how much care was given to the placement of buildings in order to showcase the region's extraordinary views. The same thoughtfulness also applies to artwork found throughout the ranch. A generous amount of original art is found both inside and out and includes Indigenous carvings, sculptures, murals and more. Be sure to stop by Lookout Lodge where you can view the exceptional carved mural by Michael Blackstock.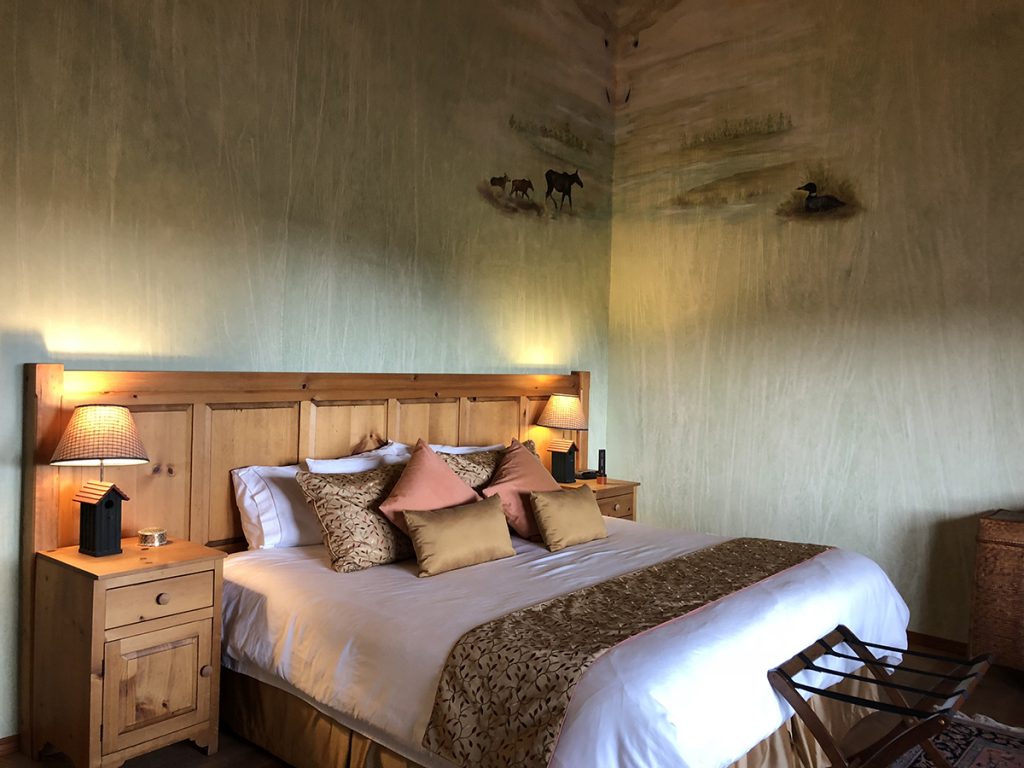 The straight goods: What's in the room?
You'll hit the pillows hard after a day spent enjoying fresh mountain air. When it comes to the room you choose, two things are for certain: It will be cozy as heck and have a view worth getting up for! 
Though there are a variety of places to stay at the ranch, comfort, space and natural light are common attributes, as are comfy bed linens, bathrobes, flashlights and toiletries featuring a blend of thyme and green tea. Committed to eco-practices as a Gold member of Green Tourism Canada, reusable water bottles are supplied in each room. Umbrellas, bug spray and sun lotion are also available at Dove Lodge. Rooms are cleaned daily with turn down service provided. On-demand laundry service is available at an additional cost. 
Standard rooms are found at the heart of the ranch, Dove Lodge, which is also where the main dining space and lounge area is located. Rooms are equipped with a queen or two twin beds and have an ensuite with a walk-in shower (yes, there's a hair dryer, too). Find a refreshment station with coffee, tea and cookies on the main floor. 
Premium rooms are over at Lookout Lodge, a two-story log cabin that faces Mount Bowman on one side and the horse's corral on the other. The spacious rooms include a coffee maker and mini fridge, queen or king size bed, private ensuite bathroom and a good-sized balcony. The shining feature is the room's loft where kids can enjoy their own space. 
Stand-alone cabins ranging from studios to suites are scattered on the property and provide immediate access to hiking trails. Studios have a queen size bed, and a view of the Cariboo Valley and Mountain. One-bedroom suites are equipped with king size beds in a separate room and a fireplace. The Ranch Suite is the largest of the cabins with two separate bedrooms, making it ideal for families. It's also the closest to the action beside the horse's corral.All feature the same amenities as the premium rooms, with a few additional upgrades such as Jacuzzi tubs and porches. 
Last but not least, the Baan Thai is the spot for luxury with its Royal Suite. You'll enjoy decadent Asian-inspired surroundings and incredible views overlooking the entire ranch.
You won't find TVs in any of the rooms; however, one can be found in the basement of Dove Lodge. Though this is a spot to get away from the bustle and buzz, Wi-Fi is available on the property for those who need to check in.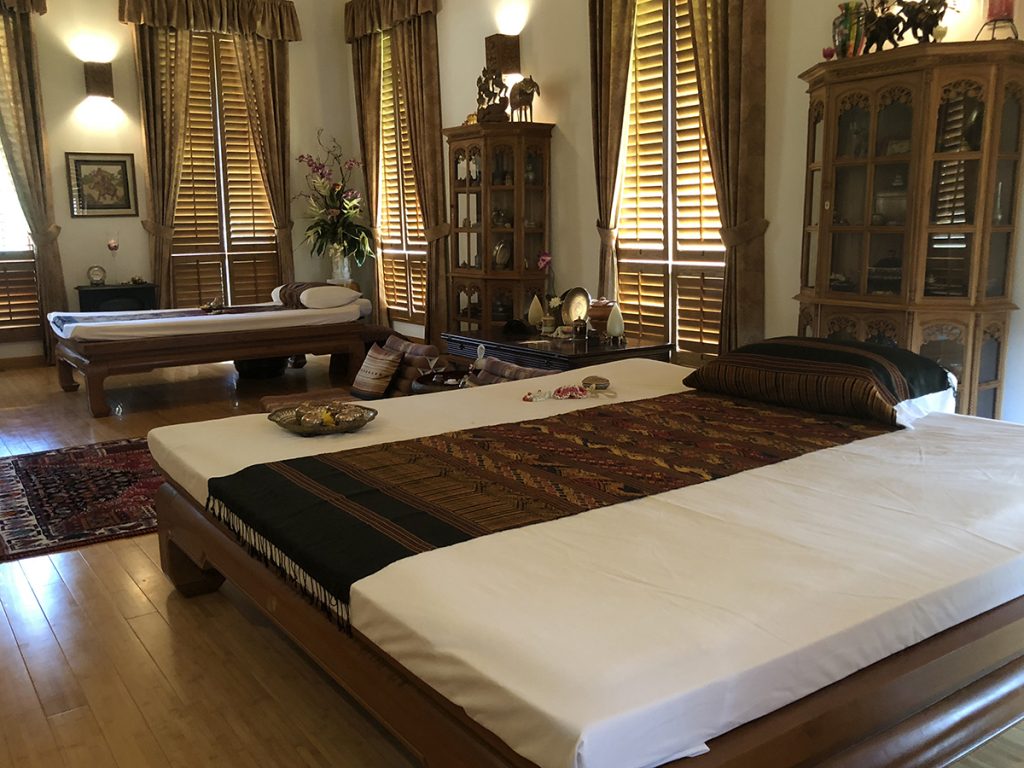 Bragging rights: What else has it got?
SPAS! How have we not discussed the spas yet? There's two: an authentic Thai Spa that features traditional Thai massage and skin care, or the Cariboo Spa, which offers a variety of westernized treatment options and features a fitness room, hydrotherapy room, pool and sauna.
The Thai Spa is located in (you probably guessed it) the glorious Baan Thai building.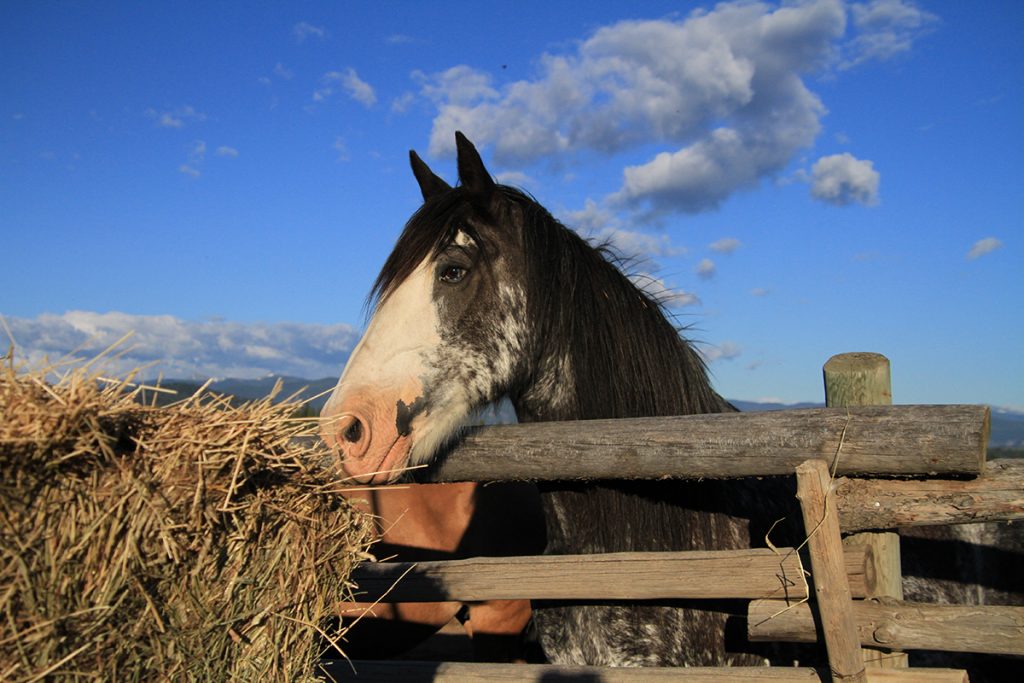 Recommend: Start your day with an early morning session of yoga where you'll try 15 different positions including stretching, self-massage and self-care, all designed to wake up nerves, maintain blood flow and help you become aware of your breathing. Also, be sure to book in for a 1.5-hour Thai massage. Your practitioner will use pressure to stretch areas of your body that have probably not been stretched in a long time. As scary as that sounds, the loosey-goosey after effects leave you feeling uber-relaxed. 
In addition to spas, consider heading out on an (optional) half-day or day tour such as guided horseback riding, guided hiking, fly-fishing, gold panning, white water rafting and more.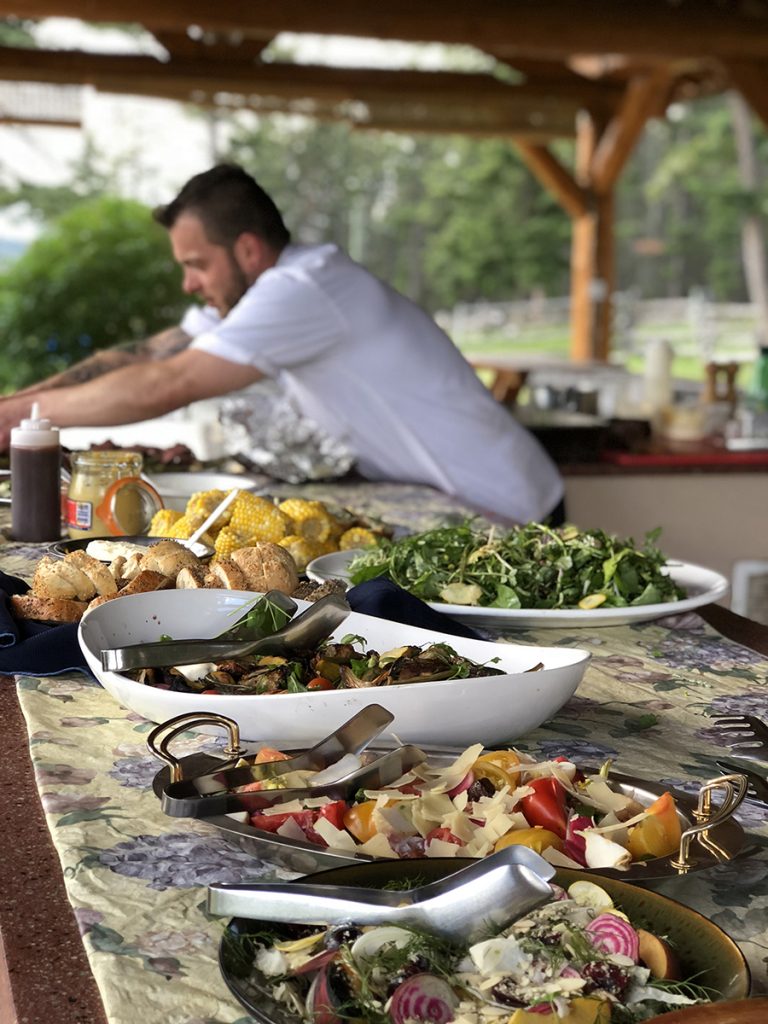 Good eats: Cocktails and cuisine
Like everything else at the ranch, expect a delicious blend when it comes to dining. The fresh, locally sourced and beautifully plated food is as delectable to eat as it looks. Choose to engage in the ranch's 150-meter diet (where all food is sourced within walking distance) by foraging in the forest with Chef Joseph Kevin (JK) Gosselin. In addition to Western and Thai theme nights (complete with a Thai dancer), guests can also take an authentic cooking class.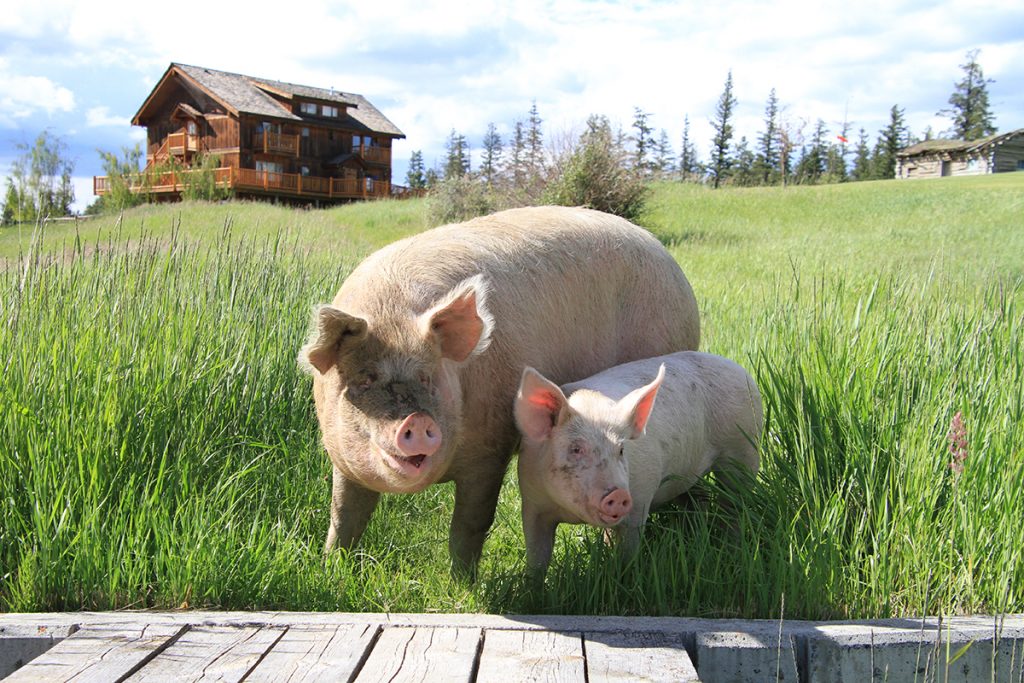 A few of our favorite things: What stood out?
If you are an animal lover, you are going to love the ranch. With four cats and six dogs onsite, there is an expectation that bellies will be rubbed. You'll likely be followed by a dog, nudged by a cat, or awakened by a resident turkey; however, the pets that will really steal your heart are the ranch's two pet pigs.
One thing you probably haven't ever considered as a wellness treatment is a walk with pigs. However, join owner Nan and adorable duo, Babe and Lucky, for a stroll and you won't regret it. For many, connecting with animals whether it be wildlife or otherwise, is a form of rejuvenation. Quirky perhaps, but at the end of the day it's all about what makes you feel good, and the antics of these two will undoubtedly bring a smile to your face.
Speaking of animals, the ranch is accustomed to seeing its fair share of wildlife. Keep your eyes peeled for birds of prey such as hawks, falcons and eagles, to mule deer, moose, big horn sheep and bears.
Parting shot: If we could change one thing
Though its remote aspect is amazing, it can take a while to get to the ranch. The closest hub is Kamloops, which is a 2.5 hour-long drive. 
Shoulder season rates for standard rooms start at CA$240 ($189). Packages are nearly all-inclusive with additional pricing for extras.
(Photos courtesy of Jenn Smith Nelson)
Jenn stayed as a guest of the hotel. The hotel did not have editorial approval.