We're guessing that hotels are likely booked to capacity in a certain Canadian star-struck city this week. Every year come September, Toronto is inundated with movie stars, cinephiles and industry insiders as the city hosts the highly anticipated annual Toronto International Film Festival (this year from Sep 7-17).
Those in the know realize that movie screenings aren't the only opportunities to see celebrities. Rather, it's in the city's top upscale hotels where you can best spot a star in a more relaxed—and dare we hope—autograph-signing mood as they linger in the lobby, enjoy some fine dining or toast the T-Dot in the hotel bar. Here are three Toronto hotels that celebrate TIFF with some star-inspired spirits.
The Thompson has been a star favorite for several years now, with notable movie stars like Bradley Cooper, Brad Pitt, George Clooney and Nicole Kidman visiting the property to stay, eat and party. Keeping up with their yearly tradition, the Thompson offers a TIFF-themed cocktail lineup inspired by this year's most anticipated films.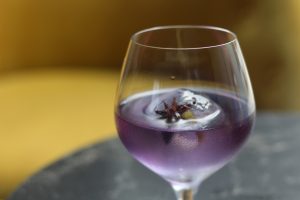 One Giant Leap, $16
2 oz Star of Bombay gin
0.5 oz Lillet Blanc
3 Dashes Thompson bitters
2 Drops of B'lure flower extract
Add all ingredients to an ice-chilled mixing glass and stir until thoroughly chilled. Strain into a chilled snifter glass over an ice sphere.
This serious sipper is inspired by the film First Man, about Neil Armstrong, the first man to walk on the moon. Effectively a signature martini playing off the sphere (moon), the deep sky color and star garnish. Clean and inspirational, it invokes the awe and sense of wonder that the astronauts would have felt looking back towards earth.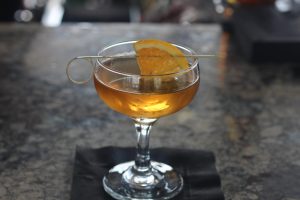 The Moment, $15
1.5 oz Applejack
0.75 oz Alvear medium-dry sherry
0.5 oz Luxardo apricot liqueur
3 Dashes Angostura orange bitters
Combine all ingredients in an ice-chilled mixing glass and stir until thoroughly chilled. Strain into a chilled cocktail coupe and garnish with skewered orange quarters.
Inspired by the film, Life Itself, The Moment is a variation on a perfect Manhattan. Applejack is what the early settlers of New York would have drunk and it's one of the few home-grown spirits that come from the US of A. The drink is based on the idea that there is no right moment; every moment is perfect in isolation and in sequence. Our lives are made up of moments crafted both by our own hands and by forces and people from history.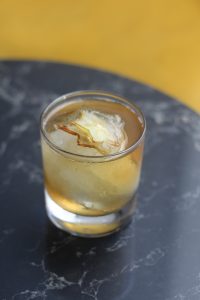 Rough Cut, $18
1.75 oz Jack Daniel's single barrel
Barspoon of peach gomme syrup
5 Dashes sorghum and sarsaparilla bitters
Add all ingredients into an ice-filled mixing glass and stir until thoroughly chilled. Strain over a large, rough-cut piece of ice in an old-fashioned glass. Express oils from an orange peel over the cocktail and discard.
A classic movie reborn, A Star is Born is the impetus for this bevvie: an old fashioned built over a rough-cut ice block. This is a lighter, southern-inspired old fashioned that's approachable and looks amazing over a jagged hunk of ice. As the ice sits in the drink, the roughest sections melt fastest, and slowly the ice shape will approximate a sphere. Just as we, over time, sand off the rough parts of our behaviors and lives.
This high-end hotel has been a popular celeb hot spot since the property first opened. As a TIFF Hospitality Partner, it's especially abuzz during this star-studded time of year. Guests can sip like celebs at Toronto's trendiest social spot, Bosk. Head bartender, Chris Rail, has carefully created three standout cocktails made exclusively during the festival.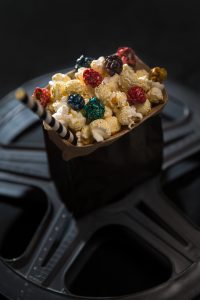 Double Feature, $40
A movie snack and cocktail all in one, the Double Feature is as tasty as it is playful. The drink is served in a chic, black popcorn bag and topped with savoury popcorn to complement the cocktail. This drink is sweet and fruity, made with Grey Goose lightly-infused with Skittles candy and Chambord.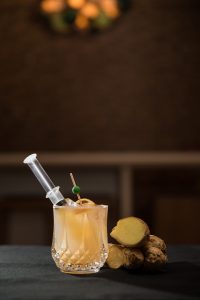 After Midnight, $50
Whether you're party-hopping or catching a late-night screening, After Midnight will set the tone for the night to come. A mix of Laphroaig single malt Scotch and an "injection" of  2 oz of Johnny Walker Green come together with Shangri-La Hotel B-Wall honey and a touch of ginger, for a smooth and refined cocktail with a twist.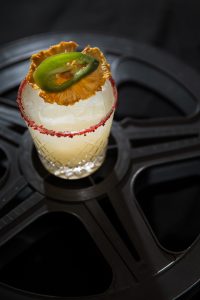 Last Kiss, $30
Make the Last Kiss your first cocktail for a long Festival night. This sultry twist on a Margarita is made with tequila, Masumi Sake and Suntory whisky for a unique and fragrant drink. Rimmed with a house-made strawberry powder and garnished with a dehydrated pineapple slice and fresh jalapeno, the Last Kiss offers a hint of spice, while sweet on the lips.
This luxury property offers TIFF lovers a few ways to indulge their celebrity crush. The lobby will be filled with eight "special guests" in the form of life-sized cut-outs of TIFF movie stars—just imagine your Instagram feed! The hotel also features two special spa packages for a fast festival recharge, complete with bubbly.
The Azure Cocktail is a nod to the upcoming TIFF movie, A Star is Born,with Lady Gaga and Bradley Cooper.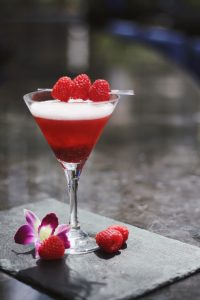 Azure Cocktail a.k.a. A Berry is Born, $14
1.5 oz Malibu rum
2 oz Pineapple juice
0.25 oz Raspberry liquor
Fresh strawberries
Shake all ingredients, strain into a martini glass and garnish with raspberries. Now off to the Festival—you're sure to be a hit!
(Featured photo courtesy of Shangri-La Hotel Toronto)