Remember when a luxury suite on stilts above a crystal clear (and hopefully starfish loaded) sea was the height of escape-from-it-all extravagance? Well, no more. The new suite-to-beat for a decadent sun and sea retreat is the incredible underwater villa, THE MURAKA. The villa, which just opened in November of 2018 is the first property in the world with an underwater hotel suite. THE MURAKA takes its name from the local Dhivehi languageandtranslates to coral.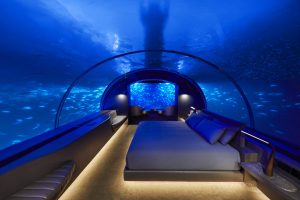 The two-level bungalow has a large, lavish above-ground living area and outdoor space, as well as an underwater master suite sitting on the ocean floor, 16 feet under the ocean. The under-ocean area features a sitting room, a bedroom and a large bathroom encased almost entirely in glass, so you can always have a front-seat view of what ocean adventures are going on outside. It's like your own personal lost world of Atlantis.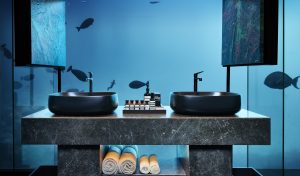 "The completion of THE MURAKA is a personal lifetime achievement," said Ahmed Saleem, a director at Crown Company and chief architect and designer of the villa. "After years in the making, my team and I are proud to officially present THE MURAKA residence and its accompanying Maldivian experience to worldly travelers who crave the extraordinary."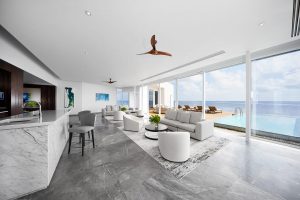 While the water-world master suite undoubtably has the biggest wow factor, the rest of the residence is pretty amazing too. On the upper level you'll find more bedrooms (the entire suite sleeps 9 people), a powder room, a fitness area, butler's quarters, and a bar and dining room. On those rare occasions where you don't feel like diving into the azure waters surrounding your villa, you can take a dip in your private infinity pool and then watch the sun fade into the Indian Ocean from your deck.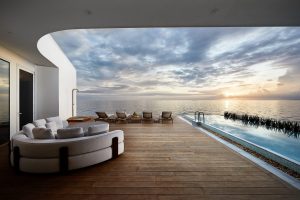 Back up! Did you say butler's quarters? Yes, we did! That's because a stay at THE MURAKA comes complete with dedicated staff and devoted butlers who are on call 24/7 and are devoted to giving guests a hyper-personalized and perfect stay, where no want is left unheeded.
If the US$50,000 (CA$66,000) a night is too much of a budget-breaker, fear not! Conrad Maldives Rangali Island has also just redeveloped its Deluxe Beach Villas that have been conceived by MURAKA's design expert Yuji Yamazaki. Each private villa is surrounded by dense tropical greenery. They also feature sophisticated interiors, their very own Japanese-inspired garden and private beach access.
Sure, we admit the US$50,000 a night suite is likely out of most people's price range, but you have to ask yourself if any price is too great to pay for the chance to drift away watching a bunch of clown fish (of Disney's Finding Nemo fame) swaying you to sleep with their rhythmic bobbing.
If hotels that lean towards the fantastical is your thing, you'll like this story on a hotel built into a quarry.