From the welcome ritual of trading a poker chip for a glass of bubbly to the bedtime stories accessed through a vintage rotary dial phone from your room, the Moxy East Village offers a unique guest experience from dawn to the late hours of the evening. The property embodies this Marriott brand's focus on playfulness, lack of pretension and comfort. Guests should sleep well, eat well and be happy they've chosen to stay at this newest addition to Moxy's New York hotel family.
Street cred: It's all about location
In walking distance to the Lower East Side, Bowery, Washington Square and NYU, the Moxy East Village has filled a void in the thriving east side neighborhood. The formerly gritty grid with music venues, punk bars and student housing still has an edgy feel, but you'll notice young parents and college students among the goth kids and club-goers. Moxy East Village has a total of 286 design-driven rooms spread over 13 stories, as well as a fine dining restaurant, café, bar, outdoor terrace and meeting facilities.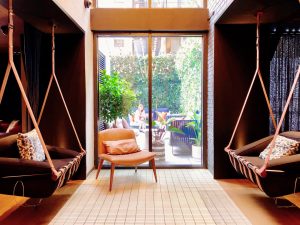 Who hangs here: Is this hotel for you?
It will appeal to savvy business travelers interested in a non-cookie-cutter urban stay in the East Village. It offers easy access to the city's financial district without having to actually stay there. The hotel is also a very well situated and suitably cool choice for Gen X parents visiting their kids at NYU or any of the art schools nearby.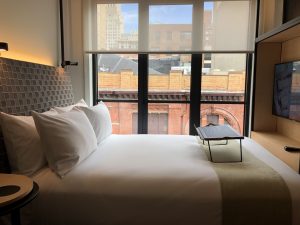 The straight goods: What's in the room?
Moxy East Village rooms are bright with nearly full-height windows overlooking classic music venue Webster Hall on East 11th Avenue or the surrounding apartment buildings. Rooms have king or queen beds, or double queens in a cozy configuration maximizing room and storage space in drawers under the bed.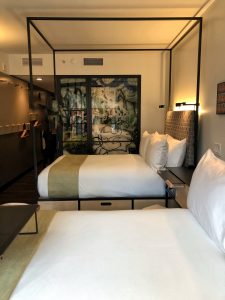 The rooms include surprisingly spacious bathrooms. Shower stalls are roomy, stocked with full-size Muk toiletries and offer a choice of rain showerhead or hand-held sprayer. With customized NYC graffiti-stylized privacy screens in the bathrooms, guests will be left with no doubt as to what city they are staying in, even when experiencing the foggy depths of jet lag.
There's a small open-storage unit with hangers and a room safe. Double rows of wooden pegs line the wall, ideal for hanging coats and such. The Moxy provides a clothing steamer in each room to ensure guests are wrinkle-free (at least clothes-wise) before heading out.
Each hotel suite has two window shades—one for privacy and the other for full blackout. As someone who needs a pitch-black room for sleeping, I can confirm that the blackout shade performed well.
Again, maximizing storage space is key in NYC and it's worth noting that the rooms, though smallish, never feel cramped or claustrophobic.
Bragging rights: What else has it got?
The Moxy East Village has benefitted from the design aesthetic of the Rockwell Group and its reverence for the gritty punk past of the East Village neighborhood. Each room—whether individual or common—has been detailed in meticulous fashion, right down to the customized carpets with digitized patterns, graffiti artwork that hides actual song lyrics, ripped concert poster plaster wallpaper and organ pipes (a nod to the many houses of worship nearby) holding up the granite top of the Alphabet Bar.
The music theme continues throughout the lobby lounge, featuring comfortable easy chairs, sofas and portable turntable with a selection of vinyl records guests can listen to in their rooms. (The front desk will lend you a record player during your stay.) The entire back wall of the lounge is a carefully chosen selection of 1980s music cassettes and movie classics on VHS like Goonies and Back to the Future.
A library-style book trolley in the lounge is frequently restocked with free books for guests to take and read—the result of a partnership with East Village's legendary Strand Bookstore where rocker Patti Smith once worked.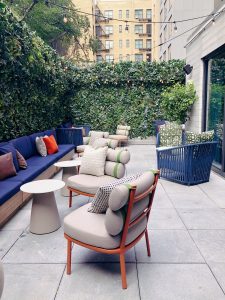 Good eats: Cocktails and cuisine
Moxy East Village has in-house dining to service both guests, locals and visitors. The four new eating and drinking venues are overseen by the Tao Group. They include the Alphabet Bar, a swish lobby lounge and drinking area with an outdoor terrace oasis.
The upscale Cathédrale restaurant downstairs has an indoor/outdoor-like terrace, large dining area and bar. The main dining space has a 26-foot ceiling, decorated with an incredible art sculpture entitled Fillmore by Italian artist Edoardo Tresoldi. This dramatic wire mesh sculpture pays homage to the interior of the Fillmore East, once known as the "Church of Rock 'n Roll."
Little Sister is the hotel's subterranean nightclub. The club feels intimate, thanks to its low ceilings and golden glow from a chandelier made from custom decanter bottles.
Opening in spring 2020, the rooftop bar is designed to resemble a New York City backyard garden, complete with strung lights, greenery and colorful patio furniture. A retractable roof will allow the bar to be used year-round.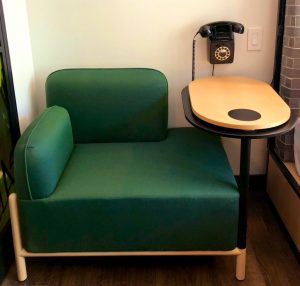 A few of our favorite things: What stood out?
Each bedroom at Moxy East Village has a vintage rotary phone. It's not a prop. The phone connects to the front desk, transmits wake-up calls and, most intriguingly, allows access to bedtime stories. Guests can dial up and listen to one of three stories as told by local luminaries or writers. This neat amenity is a great way to wind down for the night.
Parting shot: If we could change one thing
Adding make-up mirrors for facial closeups in the bathroom would be a nice touch.
Rates start at US $179 per night.
Claudia was a guest of the hotel during her stay. The hotel had no editorial input for this review.
(Photos courtesy of Claudia Laroye)