Just over a year ago, I fulfilled a travel dream to explore Chile and while doing so, had the great fortune to stay at two of the three Tierra Hotel Collection boutique properties located in the South American nation.
Listed as National Geographic Lodges of the World both Tierra Patagonia and Tierra Chiloé share similar attributes but also shine bright in their own ways. If you are thinking of planning a trip to either region or are looking for a recommendation on where to stay, look no further—both choices are outstanding in so many ways.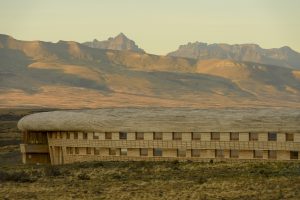 What can you expect from these hotels? Wellness, rejuvenation, rich culture and cuisine, adventure and luxury—all included in one price. And, insanely awe-worthy architecture. It is definitely the first thing you'll notice when you arrive at these hotels. They aren't your typical boutique properties.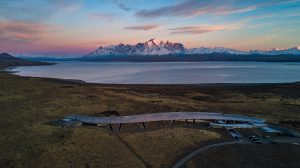 You can find these two hotels in Patagonia at the southernmost tip of South America between Chile and Argentina, divided by the Andes Mountains. It's remote and mostly untamed but magnificent with glacial fjords and towering mountains, forests and deserts. Tierra Patagonia overlooks Chile's Lake Sarmiento, the wild expanse of Torres Del Paine National Park and its famous granite towers, the Paine Massif. Looking like it was inspired by the fierce blowing winds that roar in Patagonia day in and day out, the building emerges from, and wraps around, the incredible landscape.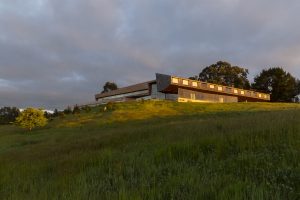 The largest island in an archipelago of 40, Chiloé is found at the northern edge of Patagonia but doesn't look anything like its southern counterpart. Instead, its surrounded by lush rolling green hills, incredible sea views and quaint fishing villages. Tierra Chiloé on the island of Chiloé is crafted using Palafito stilt architecture and overlooks one of the richest marsh areas. It's a striking building from every angle.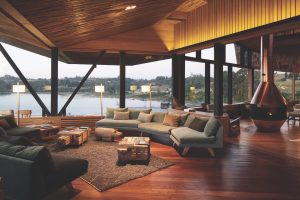 The guest rooms are an integral part of the experience. Helping to achieve the minimalistic eco-luxe feel both inside and out, both properties were built using locally harvested lenga wood for an exquisite, warm feeling. Handcrafted furniture and woven textile-filled guest rooms connect the comfort of the inside to the natural environment outside, as do the incredible views enjoyed through massive windows.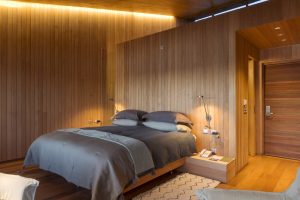 Tierra Chiloé features 24 generously sized guest rooms with suites and family-style apartments (accommodating up to six people), overlooking the inland Pacific Ocean and Pullao Wetlands. Birdwatchers will love the ability to take a deep soak in the massive tubs while watching shorebirds and the tides as they rise and fall.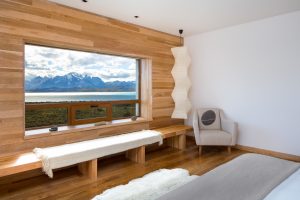 Elegance and simplicity are themes that also extend to Tierra Patagonia. It features 40 rooms (two-level suites and superior rooms that can interconnect) that open to vast panoramas where travelers can spot native wildlife such as guanaco and nandu.
Handknit slippers made from Chilean wool are generously provided for each guest to feel right at home, and then to take home. Both hotels feature locally-made Austral Organics toiletries, bathtubs, rain showers, premium bedding, bathrobes, WiFi and more.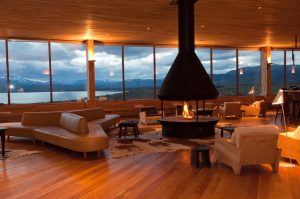 During a stay at a Tierra property, visitors can choose from handfuls of guided adventures. Whether it's exploring on foot by hiking or sailing to and from culturally rich islands, wildlife watching or shopping local craft markets, there are many ways to enjoy both regions.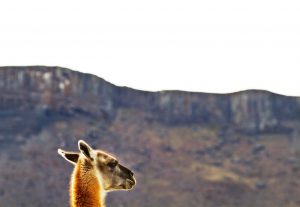 Hiking in Patagonia, however, is a must. Offering the ability to see a huge variety of wildlife (including pumas), visitors will surely love the photo-worthy, spectacular views from waterfalls and jewel-toned lakes, to turquoise glaciers, grandiose mountain ranges and more. A favorite excursion is an easy seven-kilometer hike in Torres del Paine National Park where you can trek by the crystal-clear Lake Nordenskjöld and gaze upon the famed Cuernos del Paine (the Horns) and the Salto Grande waterfall.
Getting in touch with gaucho culture with a visit to local estancia (ranch) is another experience highly recommended. The region has long been a draw for South America's historic cowboys, known as gauchos. Expert horsemen, they possess vast knowledge of all things native to the land, and specialize in ranching and sheep herding. Guests can learn all about history and beauty of the region by setting out on horseback guided by a gaucho.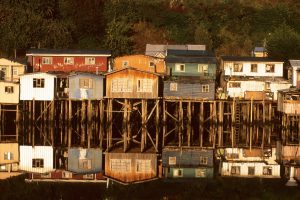 Setting off to the capital city of Castro while in Chiloé offers an opportunity to connect with Chilean culture, history and craft. Scour markets, dine on local fare, visit palafitos (colorful stilt houses) or one of 16 churches designated as UNESCO World Heritage sites such as the archipelago's oldest surviving one—the Church of Santa María de Loreta (1740).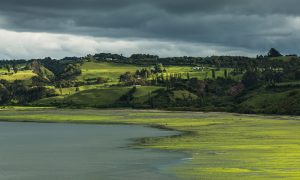 Flora lovers will jump at the chance to visit one of the world's most unique forests featuring 20 types of trees and 42 bird species. The old-growth temperate rainforest of Bosquepiedra, near Huillinco Lake, is a true hotspot for biodiversity where visitors can wander over mossy carpet tapestries in between blooming bromeliad, giant ferns and bamboo.
There's also plenty of opportunities for pampering at both Tierra properties. With stunning views and an instant connection to the wilderness just outside, they offer indulgent spa services in glorious settings.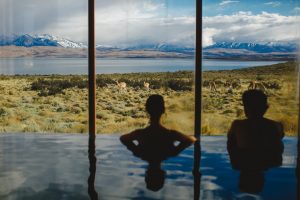 At Tierra Patagonia, you'll fall head over heels for the tranquil outdoor hot tub with the ultimate soaking view. Or, wake up with yoga, an early morning steam, water circuit or soak at the Uma Spa, completely surrounded by glass walls so you'll still feel the bond with the outdoors.
Spa services from facials and massages to body wraps and scrubs featuring all-natural ingredients are also available, as are alternative therapies designed to promote wellbeing. In addition to treatments, Tierra Chiloé's wellness center features a seashell-like sauna and steam room, and warm indoor and outdoor pools with sea views.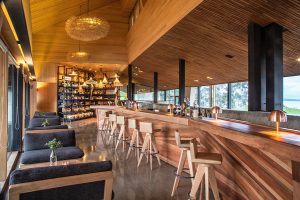 When it comes to cuisine, both properties offer menus heavily focused on fresh seafood dishes and local ingredients to help support local fisherman and farmers. While at Tierra Chiloé, guests are treated to the local delicacy, traditional curanto, a combination of shellfish, pork and potatoes cooked on hot stones in a half-meter deep hole in the ground. Then the meal is covered with nalca leaves (Chilean rhubarb) and soil and left to cook for several hours.
The Pisco Sour is a much loved and highly celebrated Chilean cocktail crafted from clear brandy (made locally), lemon and sugar. After a long day adventuring outdoors, mix it up with either a Chilean Pisco made with Ulmo honey (made using flowers of a native tree found only in southern Patagonia), or a Calafate Sour with native berries, similar to blueberries.
The likelihood that you'll be introduced to the local custom and ritual of mate in either location is high. Made from a grain herb similar to tea, mate is shared by a group and passed clockwise. Don't miss it!
If you can choose to visit both boutique hotels, you won't regret doing so. In addition to Tierra Patagonia and Tierra Chiloé, Tierra Atacama in northern Chile, is also worthy of checking out!
Jenn stayed as a guest of the hotels. They did not have editorial approval.
(Photos courtesy of Tierra Hotels)