[Editor's note: Andaz Ottawa ByWard Market is currently open for reservations. Ottawa Tourism is running a promotion: Book two nights by October 31, 2020 using code ITSONUS for stays ending December 31, 2020 and receive $100 off your stay. Full details are found here.]
Traveling Canadians had been waiting patiently for Hyatt Hotels to open an Andaz hotel in one of our cities—any city. (For those of you who remember CN Traveler's HotelChatter, staffers said they had an Andazim whenever a new Andaz hotel popped up.) When the Andaz Ottawa ByWard Market opened its doors in 2016, the wait was over and it just seemed proper that the first city to see an Andaz arrive was Ottawa, Canada's dynamic capitol city.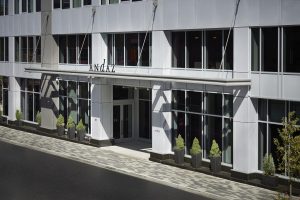 Street cred: It's all about location
As the hotel's name indicates, the city's ByWard Market is found just outside the hotel's front door. And why is this a good thing? If you like eating, shopping or drinking, you'll find something here you'll like. This area was originally founded in 1826 by Lt.-Col. John By and it is still one of Canada's oldest and largest outdoor public markets. Now, however, it also has some of Ottawa's best restaurants, boutiques and happening night spots. There are even museums and galleries nearby to satisfy your cultural cravings.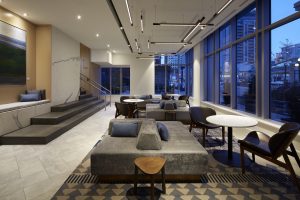 Who hangs here: Is this hotel for you?
Hanging around the lobby you'll see creative business types and coolly-dressed couples with small children in tow, or on their own. When you enter, you automatically straighten your back, shoulders down, to put your best foot forward to fit in with this stylin' crowd.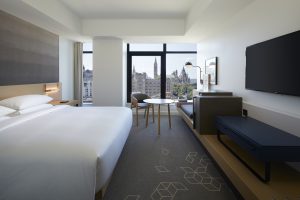 The straight goods: What's in the room?
Each of the 200 rooms is bathed in greys, light-colored woods and industrial-style large windows. Copper lighting accents the sharp-looking space, as does the streamlined wooden shelf for storing your luggage, a Keurig coffeemaker and a minibar stocked with local goodies.
Amenities include a retro inspired, but very modern, alarm clock by Leff Amsterdam—a big name in the world of watches and audio. There's also a bench seat and chair with a table where you can work or game—your choice. The closet is large with plenty of space to hang your clothes and store your delicates. And we found enough plugs by the bed to keep our tech going. Overall, the look is modern Scandinavian.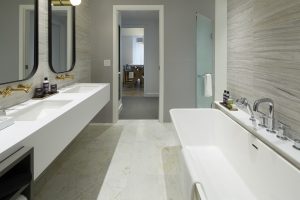 The bathroom features a walk in shower with hand-held and rain shower options. The lovely Purple Urchin Turkish Fig toiletries are suitable for both guys and gals. The copper fixtures complement the main part of the room without being too matchy-matchy.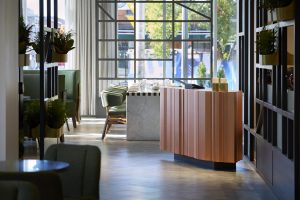 Good eats: Cocktails and cuisine
Feast + Revel is the hotel's main restaurant, serving Canadiana food and drink. Even the breakfast menu features Canadian cuisine. Deli eggs come with poached eggs, Acadian sturgeon caviar and smoked Coho salmon, all slathered with hollandaise on a Montreal bagel. Or how about breakfast poutine or Quebec toast?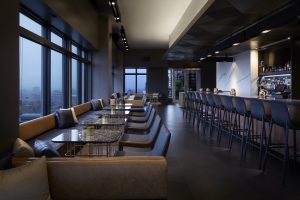 Copper Sprits and Sights is the hopping rooftop bar and lounge on the 16th floor of Andaz Ottawa ByWard Market, where you can get creative cocktails and snacks to keep you happy from the early evening until late into the night.
Bragging rights: What else has it got?
Off the lobby of the hotel, there's a handy dandy Barista Bar, convenient for espresso fiends like myself who often long for a machine in the room in order to get a fix.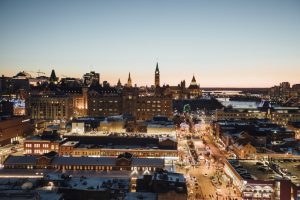 A few of our favorite things: What stood out?
When I say that the rooftop lounge is hopping, this is an understatement. During my visit, it was packed with people on a Thursday night. Good music, great snacks like pokado on toast and Lizardo's ceviche, paired with equally clever cocktails, kept guests chatting and flirting for hours. In summer, there's no better spot than the outside section of the bar. This is the highest rooftop lounge in the city and it's stunning. Green foliage, a beautiful breeze and comfy seating are a treat for winter weary Canadians and, for out of towners, the view over the Ottawa skyline is unparalleled.
I also loved that the lobby had plenty of spaces to chat with fellow guests or loved ones, grab a coffee or stronger beverage and watch the world go by, or write the first chapter of that novel you've been meaning to get to.
Parting shot: If we could change one thing
In danger of sounding coffee obsessed—which, of course, I totally am—when I went to put cream in my morning Keurig coffee—quelle horreur!—there was only liquid Coffee-mate. What the heck is in that stuff anyway?
We found rooms in September for CAD $144 (US $108)..
(Photos courtesy of Andaz Ottawa Byward Market.)
Janice stayed as a guest of the hotel. The hotel did not have editorial approval.