The historic city of Bath is feeling blue, indigo, in fact, thanks to the opening of boutique property, Hotel Indigo Bath, part of IHG's expansive portfolio.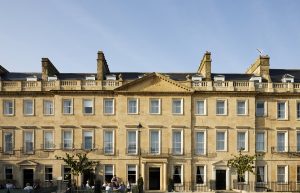 Blending in with the honey-colored Georgian architecture surrounding it, the property is located on the South Parade in the center of the city, close to the must-see ancient Roman baths, the modern Thermae Spa, Bath Abbey, the Fashion Museum and plenty of shops and cafés. And, although the neighborhood is a fairly exclusive one (rumour has it that Johnny Depp has a home nearby), you don't have to be a blue blood to stay the night. The Hotel Indigo brand tends to offer good value and this new addition is no exception.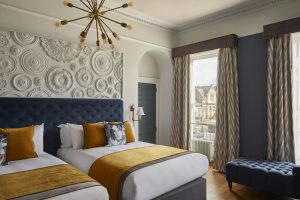 While each of the 166 rooms in the Grade I listed building come with a comfy Hypnos bed, Egyptian cotton linens, a Nespresso coffee machine, free WiFi and a 40" flat screen TV, it gets more interesting from there. Room categories reflect the history of the surrounding area and are designed accordingly. For instance, you can stay in the Romance & Mischief room, Literary Hideaway room, Georgian Architecture room, or Underground Vault room. (Booking tip: If you want to stay in a particular type of room be sure to contact the hotel directly. When you search online, rooms are listed under generic categories like Standard, Superior and Superior Premium.)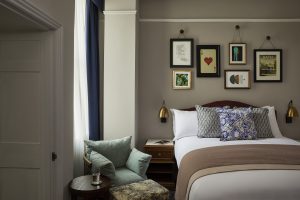 The Romance & Mischief rooms are inspired by Bath's former debutante seasons, where gambling and afternoon tea mixed with giddy, clandestine whispered promises of enduring affection and love.
These rooms are designed with dark green headboards, wood paneling and luscious red velvet accents and furnishings. As a nod to the gambling that took place during social season, there's a playing card side table ready to host a game of chance. Wall art features portraits that look to have been vandalized by a scorned lover.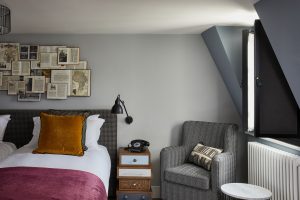 The stylish Literary Hideaway rooms are equally unique with a collage of open novels acting as a bed backdrop, with notable Bath authors (hello, Jane Austen) taking center stage. A proper writer's bureau with a captain's chair gives budding novelists a place to write a few choice words.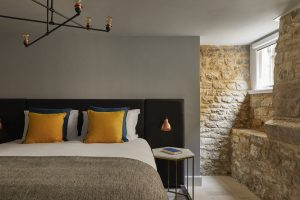 The Underground Vault rooms are found in the hotel's 18th-century stone basement. Soft lighting, black timber finishings, underfloor heating and high-end furniture are all showcased within the building's rock walls and vaulted ceilings. This is where the hotel's three suites are located as well.
Hotel Indigo Bath is also home to The Elder, a cozy-looking restaurant from Mike Robinson, co-owner of the Michelin-starred London pub, Harwood Arms. The eatery and bar feature authentic British cooking with a focus on local produce and game, seasonality and sustainability.
Off-site, but close by, Hotel Indigo Bath also offers a private house for families or small corporate gatherings. Totally self-contained, guests are invited to use the hotel's amenities or can choose to seclude themselves away from it all.
Next up, the Hotel Indigo® Dubai Downtown, the first for the brand in the Arabian Gulf, is scheduled to open later this year.
We found rooms in November starting at £146 (US $187).
(Photos courtesy of Hotel Indigo Bath)